2012
07.14
On this date in 18881, Sheriff Pat Garrett shoots Henry McCarty, popularly known as Billy the Kid, to death at the Maxwell Ranch in New Mexico. Garrett, who had been tracking the Kid for three months after the gunslinger had escaped from prison only days before his scheduled execution. Garrett received a tip that Billy was holed up with friends. While Billy was gone, Garrett waited in the outlaws' darkened bedroom. When Billy entered, Garrett shot him to death. Back on April 1, 1878, Billy the Kid ambushed Sheriff William Brady and one deputy in Lincoln, New Mexico, after ranch owner John Tunstall had been murdered. Billy had worked at Tunstall's ranch and was outraged by his employer's slaying-vowing to hunt down every man responsible. Sheriff Brady and his men, who had been affiliated with rival ranchers, were involved with the gang that killed Tunstall on February 18. Billy's retaliatory attack left Brady and Deputy George Hindman dead.
Following his indictment for the murder of Sheriff Brady, Billy the Kid was the most wanted man in the West. Evading posses sent to capture him, he eventually struck a deal with the new governor of New Mexico: In return for his testimony against the perpetrators of the ongoing ranch wars, Billy would be set free. Although he kept his word about the testimony, he began to distrust the promise that he would be released and so he escaped. Once a fugitive, Billy killed a few more men, including the gunslinger Joe Grant, who had challenged him to a showdown. Legend has it that Billy managed to get a hold of Grant's gun prior to the fight and made sure that an empty chamber was up first in the man's revolver. When it came time to fire, only Billy's gun went off and Grant was left dead. Legendary Sheriff Pat Garrett finally brought Billy the Kid in to stand trial and was subsequently sentenced to hang. Two weeks before his scheduled execution, Billy escaped, killing two guards in the process. Sherriff Garrett mounted yet another posse to bring in the Kid. After tracing him to the Maxwell Ranch, Garrett shot him to death. No legal charges were brought against him since the killing was ruled a justifiable homicide.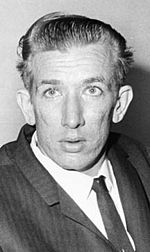 On the night of July 14, 1966, eight student nurses are brutally murdered by Richard Speck at their group residence in Chicago. Speck threatened the women with both a gun and a knife, tying each of them up while robbing their townhouse. Over the next several hours, Speck stabbed and strangled each of the young women throughout various rooms of the place. One young woman, Corazon Amurao, managed to escape with her life by hiding under a bed; Speck had lost count of his victims. Richard Speck was an alcoholic and a petty criminal with over 20 arrests on his record by the age of 25. He had "Born to Raise Hell" tattooed on his forearm and periodically worked on cargo boats traveling the Great Lakes. On the night of July 13, after drinking heavily at several Chicago bars, Speck broke into the townhouse for student nurses of the South Chicago Community Hospital.
Speck then used his gun to force three nurses into a bedroom, where he found three more women. Using nautical knots, he then tied the women's hands and feet with strips torn from bed sheets. By midnight, three more nurses had come home only to be tied up as well. Speck assured the women that he was only going to rob them. After stealing from the women, he took them into separate rooms, killing them one by one. The remaining women heard only muffled screams from their roommates. Amurao, who was hiding under her bed, waited until 6 a.m. the following day before leaving her hiding place. She then crawled out onto a second-story ledge and screamed for help. Police responding to the cries obtained a detailed description of Speck from Amurao; the sketch was placed on the front page of every local newspaper the next morning. Speck, who was hiding out at a dollar-a-night hotel, slashed his right wrist and left elbow in a suicide attempt on July 16. Speck was arrested the next day at the Cook County Hospital. With Amurao's identification and his fingerprints left at the scene, Speck was convicted and sentenced to death. However, in 1972, when the Supreme Court invalidated the death penalty law under which he was sentenced, Speck was re-sentenced to 400 years in prison. He died in prison of a heart attack on December 5, 1991.