2012
01.02
Who died on this date:
On January 2, 1963, actor Dick Powell died. He was born on November 14, 1904 in Mountain View, Arkansas. He made his film debut as a singing bandleader in Blessed Event (1932). He went on to star in movie musicals such as 42nd Street, Footlight Parade, and On the Avenue. In 1944, Powell's career changed forever when he was cast in Murder, My Sweet. The film was a big hit, and Powell had successfully reinvented himself as a dramatic actor. He was married several times, most notably to actresses Joan Blondell (1936-1944) and June Allyson (1945 until his death). Powell guest-starred in numerous television programs in the 1950s and 1960s and directed such films as The Enemy Below (1957) and The Conqueror (1956), starring John Wayne. The exterior scenes were filmed in Utah, downwind of U.S. above-ground atomic tests. The cast and crew totaled 220, and of that number, 91 had developed some form of cancer by 1981 and 46 had died of cancer by then, including Wayne. Powell died from lymphoma on January 2, 1963 and his body was cremated and interred at Forest Lawn Glendale.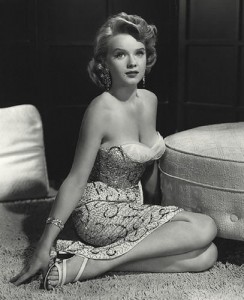 Actress Anne Francis was born on September 16, 1930 in Ossining, New York. She is best known for her role in the film classic Forbidden Planet (1956). She won a Golden Globe and was nominated for an Emmy award for her role in Honey West. Francis holds the distinction of starring in the first TV series with a female detective character's name in the title. Over her career, Francis appeared in scores of TV shows and movies. She made her film debut in This Time for Keeps (1947). In her early film career, she played supporting roles in films such as: Susan Slept Here, So Young So Bad, and Bad Day at Black Rock. Her first leading role was in Blackboard Jungle (1955). Francis found success in television and appeared in numerous TV shows. Francis was diagnosed with lung cancer in 2007 and died on January 2, 2011, from pancreatic cancer at a retirement home in Santa Barbara, California. Her ashes were given to family and final disposition is unknown.
.