2011
12.31
Who was born on this date: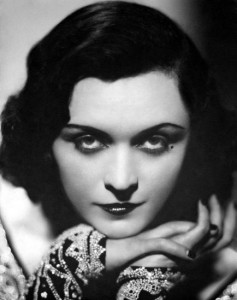 Actress Pola Negri was born on December 31, 1899 (although the date and year are in dispute) in Poland. She received fame through femme fatale roles from the silent era through the 1940s. Her Polish film debut was in 1914s, Slave to Her Senses and also appeared in a variety of films made by the Warsaw film industry, including Room No. 13, His Last Gesture, Students, and The Wife. Negri ended up becoming one of the most popular Hollywood actresses of the era, and certainly the richest woman of the film industry at the time. Negri's first two Hollywood films were Bella Donna (1923) and The Cheat (1923). Initially Paramount utilized Negri as a mysterious European femme fatale, as they did with their other major actress Gloria Swanson, and staged an ongoing feud between the two actresses. Film credits include Forbidden Paradise (1924), Woman of the World (1925), Hotel Imperial (1927), Barbed Wire (1927), and The Woman from Moscow (1928), after which she temporarily retired from movies. This turned out to be a short lived retirement, Negri returned to Hollywood in 1931 to begin filming her first talking film, A Woman Commands (1932). The film itself was poorly received, but Negri sang the song "Paradise" in the film, and the song was a hit and for many years was considered to be a standard.
She made headlines and gossip columns with a string of celebrity love affairs with stars such as Charlie Chaplin and Rudolph Valentino. Negri met Rudolph Valentino at a costume party held by Marion Davies and William Randolph Hearst at San Simeon, and was Valentino's lover until his death in 1926. Negri caused a media sensation at his New York funeral in August 24, 1926, at which she "fainted" several times, and arranged for a large floral arrangement, which spelled out "P-O-L-A", to be placed on Valentino's coffin. The press dismissed her actions as a publicity stunt. At the time of his death and for the remainder of her life, Negri would state that Valentino was the love of her life. Negri came out of retirement once to appear in the Walt Disney's, The Moon-Spinners (1964). She spent the remainder of her years largely out of the public eye. Pola Negri died on August 1, 1987 from pneumonia; however she was also suffering from a brain tumor (for which she had refused treatment). Negri was interred in Calvary Cemetery in Los Angeles.
.