2016
01.11
This week (January 11-17) in crime history – Joran van der Sloot confessed to murder in Peru (January 11, 2012); Arthur "Doc" Barker was killed while attempting to escape Alcatraz (January 13, 1939); Old West lawman Wyatt Earp died (January 13, 1929); America's most notorious traitor Benedict Arnold was born (January 14, 1741); Isle Koch, the infamous Witch of Buchenwald was sentenced for war crimes (January 15, 1951); Bill Cosby's son was murdered (January 16, 1997); Albert Fish, the notorious Moon Maniac was executed (January 16, 1936); The Great Brinks Robbery (January 17, 1950); Gary Gilmore was executed (January 17, 1977)
Highlighted Crime Story of the Week –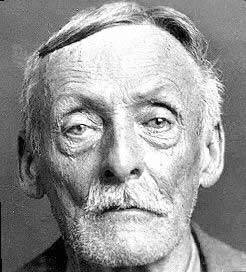 On January 16, 1936, Albert Fish was executed at Sing Sing prison in New York. Dubbed the "Moon Maniac," Fish was one of America's most notorious serial killers. Authorities believe that Fish killed as many as 10 children and then ate their remains. Fish went to the electric chair with great anticipation, telling guards, "It will be the supreme thrill, the only one I haven't tried."
Fish was convicted of the 1928 murder of 10-year-old Grace Budd in Westchester County, New York. He strangled the girl and then carved up her body with a saw. Six years later, Fish wrote Budd's mother a letter in which he described in detail killing the girl and then preparing a stew with her flesh that he ate over the next nine days. The letter was traced back to Fish.
A psychiatrist who examined Fish stated, "There was no known perversion that he did not practice and practice frequently." Most disturbingly, Fish was obsessed with cannibalism. He carried writings about the practice in his pockets. After his arrest, Fish confessed to the murders of other young children whom he claimed to have eaten. Although nearly everyone agreed that he was insane, including the jury deciding his fate, he was nevertheless sentenced to death in the electric chair. Reportedly, his last statement was a handwritten note filled with filthy obscenities.
Check back every Monday for a new installment of "This Week in Crime History."
Michael Thomas Barry is a columnist for www.crimemagazine.com and is the award winning author of seven nonfiction books that includes the soon to be released In the Company of Evil Thirty Years of California Crime, 1950-1980 and the award winning Murder and Mayhem 52 Crimes that Shocked Early California, 1849-1949.