2015
04.08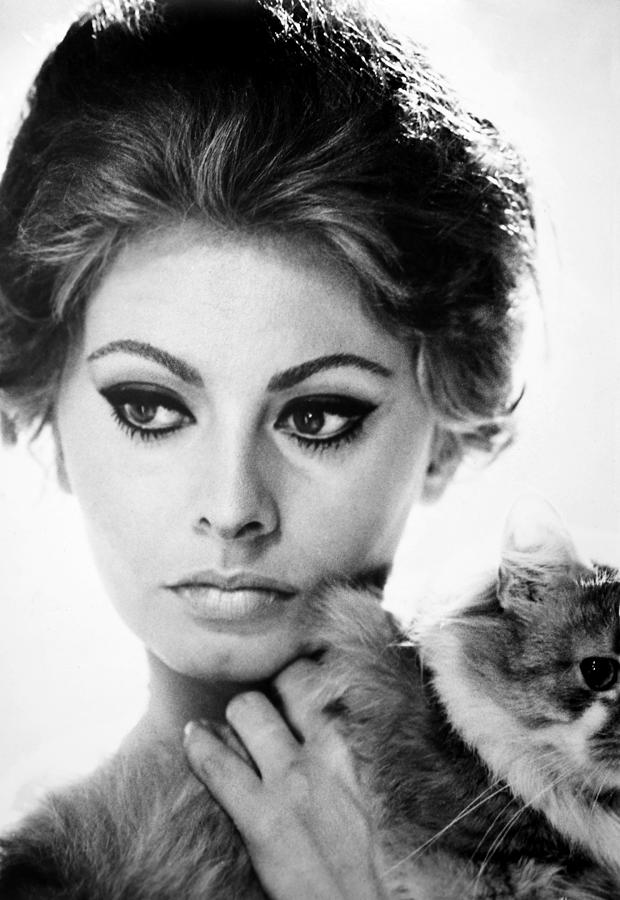 This week (April 8-14) in Hollywood history – Sophia Loren won best actress Oscar for Two Women (April 9, 1962); Charlie Chaplin was awarded an honorary Oscar (April 10, 1972); First 3-D movie House of Wax premiered (April 10, 1953); Cher won best actress Oscar for Moonstruck (April 11, 1988); First silent movie palace opened in New York City (April 12, 1914); Sidney Poitier won best actor Oscar for Lilies of the Field (April 13, 1964); Katharine Hepburn and Barbra Streisand tie for best actress Oscar (April 14, 1969).
Highlighted story of the week –
On April 9, 1962, the 34th annual Academy Awards ceremony was held at the Santa Monica Civic Auditorium in Santa Monica, California. In addition to the overwhelming triumph of the musical West Side Story, which won 10 Oscars, including Best Picture, one of the big victors of the night was the Italian actress Sophia Loren, who took home the Best Actress statuette for Two Women.
Born Sofia Scicolone on September 20, 1934, in Rome, the actress landed her first role as a slave girl extra in 1951's Quo Vadis, directed by Mervyn LeRoy. After 15-year-old Sofia met the film producer Carlo Ponti while competing in the Miss Rome beauty contest, he began guiding her career. Taking the stage name Sophia Loren, she played a variety of small parts in low-budget films before breaking out in such movies as Aida (1953) and L'oro di Napoli (The Gold of Naples) (1954), directed by Vittorio De Sica. Ponti helped her get exposure beyond the world of Italian film, including a part opposite Cary Grant and Frank Sinatra in 1957's The Pride and the Passion; she subsequently signed a multi-picture deal with Paramount Pictures.
Her marriage by proxy to Ponti (carried out by the couple's lawyers in Mexico in 1957) caused a scandal: Ponti faced bigamy charges and threats of ex-communication due to Italy's refusal to recognize his divorce from his first wife, Giuliana, and Loren was seen as his concubine. The divorce eventually went through, and Ponti and Loren married in a civil ceremony in France in 1966. They would stay together until Ponti's death, in 2007.
Loren gave the most acclaimed performance of her career in De Sica's Two Women, released in Italy in December 1960 and internationally in 1961. For her portrayal of a mother trying to protect her teenage daughter during World War II, Loren earned numerous accolades, including the top acting honors at the Cannes, Berlin and Venice film festivals. Her Oscar win made her the first performer ever to win that award for a foreign-language.
West Side Story, the film adaptation of Leonard Bernstein and Stephen Sondheim's Broadway hit, was an updated version of Shakespeare's immortal Romeo and Juliet set on the gang-ridden streets of New York City. The film swept most of the other major Oscar categories in 1962, winning Best Picture, Best Director (Jerome Robbins and Robert Wise), Best Supporting Actress (Rita Moreno) and Best Supporting Actor (George Chakiris), Best Art Direction, Best Cinematography, Best Sound, Best Score, Best Film Editing and Best Costume Design. The film's star, Natalie Wood, was nominated in the Best Actress category for another film, Splendor in the Grass, but lost out to Loren.
Check back every Wednesday for a new installment of "This Week in Hollywood History."
Michael Thomas Barry is the author of six nonfiction books that includes Fade to Black Graveside Memories of Hollywood Greats, 1927-1950.