2015
03.09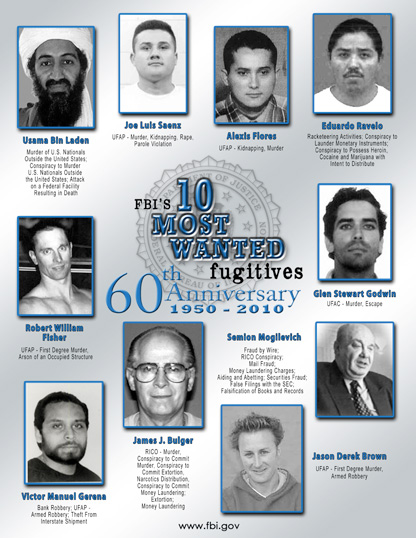 This week (March 9-15) in crime history – Rapper Notorious BIG was shot and killed (March 9, 1997); James Earl Ray pleaded guilty to assassinating Martin Luther King Jr. (March 10, 1969); Dr. David Gunn was shot and killed at his abortion clinic (March 10, 1993); Terrorists bombed train in Madrid, Spain (March 11, 2004); Teenager Elizabeth Smart was found alive (March 12, 2003); Czar Alexander II was assassinated (March 13, 1881); Impeachment trial of President Andrew Johnson began (march 13, 1868); Mass school shooting in Dunblane, Scotland (March 13, 1996); Jack Ruby was sentenced to death for killing Lee Harvey Oswald (March 14, 1964); FBI's 10 Most Wanted List debuted (March 14, 1950); Birmingham Six were released from prison (March 14, 1991); Julius Caesar was assassinated (March 15, 44 B.C.)
Highlighted Story of the Week –
On March 14, 1950, the F.B.I debuts the "Ten Most Wanted Fugitives" list in an effort to publicize particularly dangerous criminals. The creation of the program arose out of a wire service news story in 1949 about the "toughest guys" the FBI wanted to capture. The story drew so much public attention that the "Ten Most Wanted" list was given the go ahead by J. Edgar Hoover the following year. As of 2015, 494 criminals have appeared on the list and 463 have been apprehended or located, 153 as a result of tips from the public. The Criminal Investigative Division (CID) of the FBI asks all fifty-six field offices to submit candidates for inclusion on the list. The CID in association with the Office of Public and Congressional Affairs then proposes finalists for approval of by the FBI's Deputy Director. The criteria for selection is simple, the criminal must have a lengthy record and current pending charges that make him or her particularly dangerous and the FBI must believe that the publicity attendant to placement on the list will assist in the apprehension of the fugitive. Unless a "Top Tenner" is captured, found dead, or surrenders, they are only removed from the list when they meet one of two conditions. First, the federal process pending against the individual is dismissed. Second, they no longer fit "Top Ten" criteria. When a fugitive is removed from the list, another candidate is added. Only eight women have appeared on the Ten Most Wanted list and Ruth Eisemann Schier was the first in 1968.
Check back every Monday for a new installment of "This Week in Crime History."
Michael Thomas Barry is a columnist for www.crimemagazine.com and is the author of six nonfiction books that includes Murder and Mayhem 52 Crimes that Shocked Early California, 1849-1949.