2015
02.18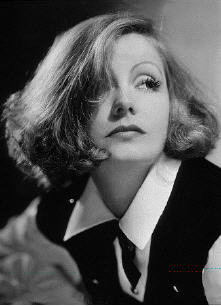 This week (February 18-24) in Hollywood history – Winners of the first Academy Awards were announced (February 18, 1929); Lee Marvin was born (February 19, 1924); Bob Hope married Dolores Reade (February 19, 1934); Elizabeth Taylor married Michael Wilding (February 21, 1952); Ann Sheridan was born (February 21, 1915); Greta Garbo made her U.S. film debut (February 21, 1926); Drew Barrymore was born (February 22, 1975); Madel Normand died (February 23, 1930); Director Victor Fleming was born (February 23, 1889); Variety magazine announced that MGM had purchased the rights to the film version of The Wizard of Oz (February 24, 1938).
Highlighted Story of the Week –
On February 21, 1926, Swedish actress Greta Garbo made her U.S. screen debut in The Torrent. Born Greta Louisa Gustaffson in 1905, Garbo grew up in a poor family in Stockholm. At age 13, she started working as a lather girl at a barbershop and later moved to a department store, where she was asked to appear in a publicity film for the store. Later, she appeared in a publicity film for a bakery. Pleased with her success, she applied for and won a scholarship to the Royal Dramatic Theater's acting school, where she was discovered by director Mauritz Stiller, one of the most powerful directors in Swedish cinema. He cast her as the Countess Elizabeth Dohna in his critically acclaimed 1924 film The Legend of Gosta Berling, which ran some four hours; he also gave her the now-famous stage name of Garbo.
In 1924, Louis B. Mayer of Hollywood's powerful Metro-Goldwyn-Mayer studio hired Stiller on contract and brought him to the United States. Stiller only accepted the job on the condition that MGM contract Garbo as well. Mayer agreed, although he reportedly considered Garbo too full-figured to succeed as an actress in America at the time. In The Torrent, a silent film co-starring the Latin heartthrob Ricardo Cortez, Garbo played a Spanish peasant girl who becomes an opera star. Her charisma, beauty and acting talent made an immediate impact on the filmmakers, so much so that they raised her salary even before the movie was released. When it hit theaters, Garbo was an immediate sensation. For his part, Stiller had been prevented by Mayer from directing The Torrent, and clashed with the studio repeatedly during the filming of a follow-up picture, The Temptress. Fired mid-production, he had an unhappy stint at Paramount before being forced to return to Sweden, where he died in 1945; the loss reportedly left Garbo devastated.
Unlike many of her contemporaries, Garbo successfully made the transition to sound after becoming a star during the silent film era. Her first talking picture was Anna Christie in 1930, which earned her an Academy Award nomination for Best Actress. Romantically linked with numerous fellow celebrities, including her frequent co-star John Gilbert, Garbo never married. Reserved and withdrawn, she recoiled from publicity, cloaking herself in dark glasses and large hats when she traveled. "I want to be alone," a line from her 1939 film Grand Hotel, has often been used to sum up her aversion to fame. Garbo's reclusiveness only heightened her mystique. Although she retired from moviemaking in 1941, she was chosen by Variety in 1950 as the best actress of the first half of the 20th century. She became an American citizen in 1951, and was honored with a special Academy Award for her "unforgettable" work in 1954. Greta Garbo died on April 15, 1990 in New York City from pneumonia and her cremated remains were buried at the Woodland Cemetery in Stockholm Sweden.
Check back every Wednesday for a new installment of "This Week in Hollywood History."
Michael Thomas Barry is the author of six nonfiction books and includes the award winning Fade to Black: Graveside Memories of Hollywood Greats, 1927-1950.