2015
01.23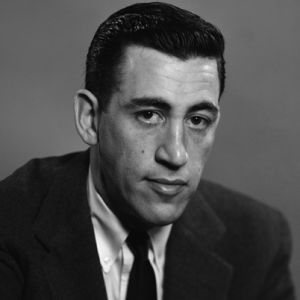 This week (January 23-29) in Literary history – Nobel Prize winner Derek Walcott was born (January 23, 1930); Edith Wharton was born (January 24, 1862); Virginia Woolf was born (January 25, 1882); Robert Burns was born (January 25, 1759); Oscar Wilde's "Duchess of Padua" premiered in New York City (January 26, 1891); Dante was exiled from Florence (January 27, 1302); Lewis Carroll was born (January 27, 1832); French author Collette was born (January 28, 1873); Jane Austen's "Pride and Prejudice" was published (January 28, 1813); Edgar Allan Poe's "The Raven" was published (January 29, 1845).
Highlighted Story of the Week –
On January 27, 2010, J.D. Salinger, author of The Catcher in the Rye, the classic American novel about a disillusioned teenager, died of natural causes at the age 91. Prior to his death, the best-selling writer spent some 50 years shunning the spotlight and living reclusively at his home in Cornish, New Hampshire.
Jerome David Salinger was born on January 1, 1919, in New York City, the second of two children. As a teen, he flunked out of a Manhattan private school and was sent to Valley Forge Military Academy in Pennsylvania. The school would later serve as a model for Pencey Prep, which Salinger's famous character Holden Caulfield is expelled from in The Catcher in the Rye.
In 1939, Salinger enrolled in a writing course at Columbia University, and soon began publishing his short stories in magazines. In 1941, after previous rejections, he sold his first essay "Slight Rebellion off Madison" to The New Yorker. This story marked the first appearance of Holden Caulfield; however, the magazine put off publishing the story until 1946. After being drafted into the U.S. Army in 1942 during World War II, Salinger saw combat duty in Europe. Back in New York after the war, he continued writing, and by the late 1940s was a regular contributor to The New Yorker.
In 1951, The Catcher in the Rye was published and became a best-seller. As The New York Times described the book in Salinger's obituary: "With its cynical, slangy vernacular voice (Holden's two favorite expressions are "phony" and "goddam"), its sympathetic understanding of adolescence and its fierce if alienated sense of morality and distrust of the adult world, the novel struck a nerve in cold war America and quickly attained cult status, especially among the young.
Having achieved literary success and fame, Salinger soon soured on it. He ordered his publisher to remove his photograph from his book's back jacket, and in 1953, he moved from Manhattan to New Hampshire, where he built a tall fence around his property and rarely gave interviews to the media. The Catcher in the Rye was the only novel ever published by Salinger, who married three times and had two children. Salinger died on January 27, 2010 at his home and his burial location is unknown.
Check back every Friday for a new installment of "This Week in Literary History."
Michael Thomas Barry is the author of six nonfiction books and includes Literary Legends of the British Isles and America's Literary Legends.