2015
01.19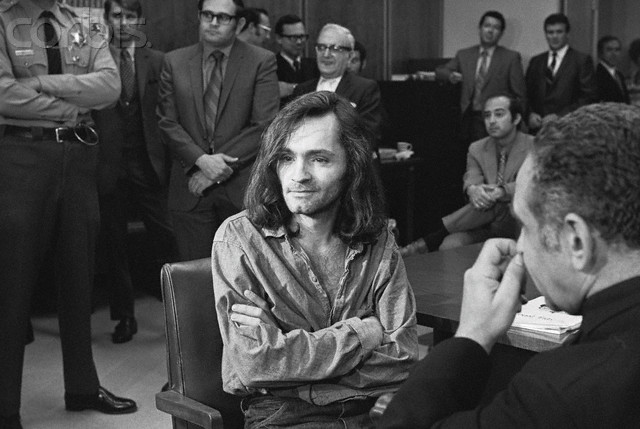 This week (January 19-25) in crime history – President Ford pardoned Tokyo Rose (January 19, 1977); Klaus Barbie, "The Butcher of Lyons" was arrested in Bolivia (January 19, 1983); Iran Hostage Crisis ended (January 20, 1981); Carl "Alfalfa" Switzer was shot and killed (January 21, 1959); Alger Hiss was convicted of perjury (January 21, 1950); Ted Kaczynski pleaded guilty to the Unabomber crimes (January 22, 1998); Look magazine published the confessions of Emmett Till's murderers (January 24, 1956); BTK Killer sends chilling message to Kansas TV station (January 25, 2005); Charles Manson and three followers were convicted of the Tate-LaBianca murders (January 25, 1971).
Highlighted crime story of the week – 
On January 25, 1971, Charles Manson was convicted, along with followers Susan Atkins, Leslie Van Houten, and Patricia Krenwinkel, of the brutal 1969 Tate-LaBianca murders. In 1967, Manson, a lifetime criminal, was released from a federal penitentiary in Washington State and traveled to San Francisco, where he attracted a following among rebellious young women with troubled emotional lives. Manson established a cult based on his concept of "Helter Skelter," an apocalyptic philosophy predicting that out of an imminent racial war in America would emerge five ruling angels: Manson, who would take on the role of Jesus Christ, and the four members of the Beatles. Manson convinced his followers that it would be necessary to murder celebrities in order to attract attention to the cult.
On the night of August 9, 1969, with detailed instructions from Manson, four of his followers drove up to Hollywood Hills home of director Roman Polanski and his wife, actress Sharon Tate. Polanski was not home at the time but several friends of Tate's were staying the night. During the next few hours, Manson's followers engaged in a murderous rampage that left five dead, including a very pregnant Sharon Tate, three of her friends, and the 18-year-old son of the caretaker of the estate. The next night, Manson followers murdered Leno and Rosemary LaBianca in their home in the Los Feliz section of Los Angeles; this time, Manson went along to make sure the killings were carried out correctly. The cases went unsolved for over a year before the Los Angeles Police Department discovered the Manson connection. Various members of his cult confessed, and Manson and five others were indicted on charges of murder and conspiracy to commit murder.
In January 1972, Manson and three others were found guilty, and on March 29 all four were sentenced to death. The trial of another defendant, Charles "Tex" Watson, was delayed by extradition proceedings, but he was likewise found guilty and sentenced to death. In 1972, the California Supreme Court abolished the death penalty in California, and Manson and his followers' death sentences were reduced to life imprisonment.
Check back every Monday for a new installment of "This Week in Crime History."
Michael Thomas Barry is a columnist for www.crimemagazine.com and is the author of six nonfiction books that includes the award winning Murder and Mayhem 52 Crimes that Shocked Early California, 1849-1949.