2014
12.17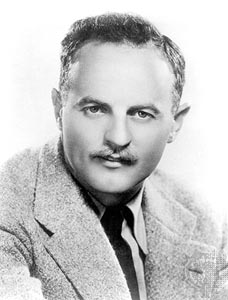 This week (December 17-23) in Hollywood history – Jennifer Jones died (December 17, 2009); Dana Andrews died (December 17, 1992); Thomas Mitchell died (December 17, 1962); Betty Grable was born (December 18, 1916); Irene Dunne was born (December 20, 1898); Clark Gable married Ricky Anne Loew-Beer (December 20, 1949); Walt Disney's Snow White and the Seven Dwarfs premiered (December 21, 1937); Darryl Zanuck died (December 22, 1979); Butterfly McQueen died (December 22, 1995).
Highlighted Story of the Week – 
On December 22, 1979, Darryl Zanuck, the powerful Hollywood studio chief and producer behind a long list of classic movies, including The Grapes of Wrath, All About Eve and The Longest Day, died at age 77 in Palm Springs, California. Zanuck was a force in the movie business for four decades, during which he greenlit hundreds of projects and promoted the careers of such actors as Henry Fonda and Tyrone Power.
Zanuck was born on September 5, 1902, in Wahoo, Nebraska, and began his career in Hollywood as a writer in the early 1920s. He penned scripts for the canine film star Rin Tin Tin at Warner Brothers and by the early 1930s was head of production for the movie studio. In 1933, Zanuck left Warner to co-found Twentieth Century Pictures, which in 1935 merged with Fox Studios to become Twentieth Century-Fox. At Twentieth Century-Fox, Zanuck signed contracts with actors including Fonda, Power, Gene Tierney and Betty Grable and produced or gave the go-ahead to now-classic films like Rebecca of Sunnybrook Farm (1938), How Green Was My Valley (1941), Gentleman's Agreement (1947), Twelve O' Clock High (1949), and All About Eve (1950). Zanuck's final film was the 1970 box-office disappointment Tora! Tora! Tora!, about the Japanese attack on Pearl Harbor. He was forced out as the head of Twentieth Century-Fox in 1971. Zanuck is buried at Westwood Memorial Park in Los Angeles.
Check back every Wednesday for another installment of "This Week in Hollywood History."
Michael Thomas Barry is the author of six nonfiction books that includes the award winning Fade to Black: Graveside Memories of Hollywood Greats, 1927-1950.