2012
07.03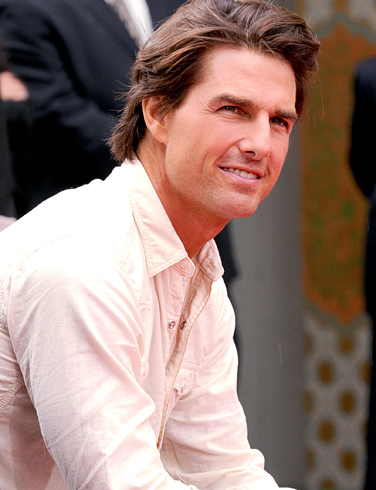 On this day in 1962, actor Tom Cruise is born in Syracuse, New York. After his breakout role in the 1983 film Risky Business, Cruise went on to become one of the biggest stars in Hollywood, appearing in a long list of critically acclaimed dramas and blockbuster action movies. At age 18, Cruise made his feature film debut in Endless Love (1981), which was followed by Taps (1981) and The Outsiders (1983). He first won international fame for his role as fighter pilot Pete "Maverick" Mitchell in 1986's Top Gun. Cruise received his first Academy Award nomination for his star turn as Vietnam vet and anti-war activist Ron Kovic in Born on the Fourth of July (1989). His second Oscar nomination for Best Actor came for his portrayal as a sports agent in Jerry Maguire (1996); a third nomination followed, in the Best Supporting Actor category, for Cruise's performance as a self-help guru in Paul Thomas Anderson's quirky ensemble drama Magnolia (1999).
Cruise's numerous film credits also include The Color of Money (1986) with Paul Newman; Rain Man (1988) with Dustin Hoffman; A Few Good Men (1992) with Jack Nicholson; The Firm (1993) and Interview with the Vampire: the Vampire Chronicles (1994). He starred as superspy Ethan Hunt in 1996's Mission: Impossible, and reprised his role in the hit 2000 and 2006 sequels. Cruise acted in three films with Nicole Kidman, to whom he was married from 1990 to 2001: Days of Thunder (1990), Far and Away (1992) and Eyes Wide Shut (1999). Other Cruise movies include Minority Report (2002) and War of the Worlds (2005), both of which were directed by Steven Spielberg.
In the spring of 2005, Cruise and actress Katie Holmes, who co-starred in the television drama Dawson's Creek (1998-2003), embarked on a whirlwind, high-profile romance. That May, Cruise went on The Oprah Winfrey Show and generated headlines by jumping on the host's couch and expressing his love for Holmes, who is 16 years, his junior. The following month, the two actors were engaged in Paris. Around the same time, Cruise sparked controversy for his impassioned advocacy of Scientology and his criticism of anti-depressant drugs and psychiatry. On November 18, 2006, following the birth of their daughter Suri in April of that same year, Cruise and Holmes were wed in Italy, an event that received huge media coverage. In May 2008, Cruise returned to The Oprah Winfrey Show for a retrospective of his 25 years in film, beginning with his breakout in Risky Business. This past week Katie Holmes filed for divorce.