2012
06.29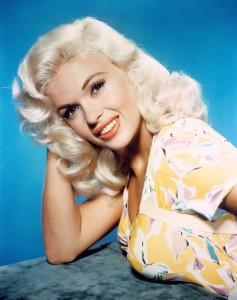 On this date in 1967, Blonde bombshell actress Jayne Mansfield is killed when the car in which she is riding strikes the rear of a trailer truck on Interstate-90 east of New Orleans, Louisiana. Mansfield had been on her way to New Orleans from Biloxi, Mississippi, where she had been performing a standing engagement at a local nightclub; she had a television appearance scheduled the following day. Ronald B. Harrison, a driver for the Gus Stevens Dinner Club, was driving Mansfield and her lawyer and companion, Samuel S. Brody, along with three of Mansfield's children with her ex-husband Mickey Hargitay, in Stevens' 1966 Buick Electra. On a dark stretch of road, just as the truck was approaching a machine emitting a thick white fog used to spray mosquitoes (which may have obscured it from Harrison's view), the Electra hit the trailer-truck from behind. Mansfield, Harrison and Brody were all killed in the accident. Eight-year-old Mickey, six-year-old Zoltan and three-year-old Marie, or Mariska, had apparently been sleeping on the rear seat; they were injured but survived.
Born Vera Jayne Palmer in Bryn Mawr, Pennsylvania, Mansfield arrived in Hollywood as a young wife and mother (to daughter Jayne Marie) in 1954, determined to become an actress. From the beginning, she wasn't afraid to make the most of her assets, particularly her curvaceous figure, flowing platinum blonde hair and dazzling smile. Cast in the Broadway comedy "Will Success Spoil Rock Hunter?", she turned heads as a voluptuous, dumb blonde movie star; in one famous scene she appeared in nothing but a white towel. She famously appeared nude in the 1963 comedy "Promises! Promises!", and stills from the set appeared in Playboy magazine, but her best performance was generally believed to have been in 1957's "The Wayward Bus," based on the John Steinbeck novel and costarring Joan Collins. While her screen career amounted to about a dozen less-than-memorable films, off screen she played the movie star role to perfection, and became one of the most visible glamour girls of the era. In 1958, after her first marriage ended in divorce, she married Hargitay, a former Mr. Universe; they divorced in 1963, and Mansfield was married once more, to Matt Climber, in 1964. That marriage also ended in divorce and she was awarded custody of their child, Octabiano. Mariska Hargitay, injured in the accident that killed her mother, later launched her own acting career, most memorably starring in the long-running television drama "Law & Order: Special Victims Unit."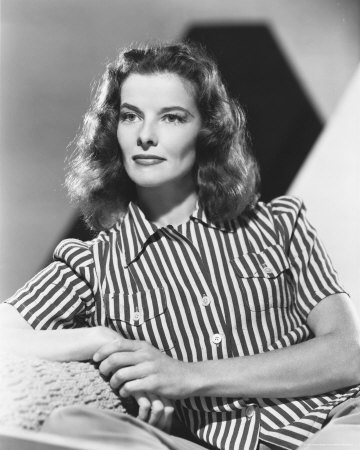 On this date in 2003, Katharine Hepburn, a four-time Academy Award winner for Best Actress and one of the greatest screen legends of Hollywood's golden era, dies of natural causes at the age of 96, at her home in Old Saybrook, Connecticut. Hepburn was born into a well-to-do New England family, the daughter of a prominent surgeon, Dr. Thomas Norval Hepburn, and his wife, Katharine Houghton, a suffragist and birth control advocate. She graduated from Bryn Mawr College in Pennsylvania in 1928 and became a stage actress; her role in the 1932 Broadway production The Warrior's Husband led to a Hollywood screen test and a contract with RKO studios. In Hepburn's debut film, A Bill of Divorcement (1932), she starred opposite John Barrymore and was directed by George Cukor, who would become her close friend and helm many of her films (including 1933's Little Women, 1935's Sylvia Scarlett, 1938's Holiday and 1949's Adam's Rib).
Heralded as a fresh, unconventional beauty and a talented actress, Hepburn won her first Best Actress Oscar for only her third film, Morning Glory (1933). A string of films made with RKO had mixed degrees of success, and Hepburn began earning a reputation as arrogant and self-absorbed on set, though she was always meticulously prepared for her roles. She also refused to play by the rules governing typical Hollywood starlets at the time, appearing publicly in pantsuits and without makeup and refusing to sign autographs or grant interviews. After modest successes with Stage Door (1937) and Bringing Up Baby (1938), Hepburn decided to buy out her contract with RKO, a move that gave her unusual control over her career for that time. Her faltering image was revived by the success of The Philadelphia Story, which had originally been written for Hepburn to play on Broadway and was then adapted into a hit 1940 movie co-starring Cary Grant and Jimmy Stewart. Several years later, Hepburn met the actor Spencer Tracy while co-starring with him in Woman of the Year (1942). Though Tracy, a devout Catholic, remained married, the two began a romantic relationship that would last until Tracy's death nearly three decades later (Hepburn had divorced her husband of six years, Ludlow Ogden Smith, in 1934). On-screen, they acted in nine films together, including Adam's Rib (1949), Pat and Mike (1952) and Guess Who's Coming to Dinner (1967). Tracy died just weeks after shooting was completed on the last film, for which Hepburn would win her second Best Actress Oscar.
Hepburn was awarded her third Oscar for her starring turn in A Lion in Winter (1968). She continued to appear in films and on television (including an Emmy-winning performance in 1976's Love Among the Ruins) throughout the next three decades, winning a fourth Best Actress statuette for 1981's On Golden Pond. Nominated for 12 Academy Awards in her lifetime (a record that would stand until 2003, when Meryl Streep received her 13th nomination), Hepburn never attended the awards show to collect her honors in person. In 1986, she broke her longtime silence about her relationship with Tracy (his widow had died in 1983) in a televised tribute to the actor. She read aloud a poignant letter she had written to him about his drinking and about their last years together. She later included the letter in her best-selling 1991 autobiography Me: Stories of My Life. In her final screen appearance, in 1994's Love Affair (a remake of the classic 1939 film), Hepburn appeared frail but composed as ever in her portrayal of the aristocratic aunt of Warren Beatty's character. In 1999, the American Film Institute (AFI) named Hepburn as the greatest female actress in the history of American cinema. When she died on June 29, 2003, the lights on Broadway were dimmed for an hour to mark the passing of one of entertainment's brightest stars.