2012
06.01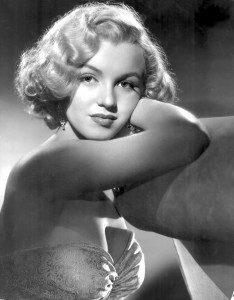 On this date in 1926, Marilyn Monroe is born in Los Angeles, California. She was born Norma Jeane Mortenson, but later given her mother's name, and baptized Norma Jeane Baker. After a tumultuous childhood in which both maternal grandparents and her mother were committed to mental institutions, Norma Jeane lived with a string of foster families. She married one of her neighbors, James Dougherty, when she was 16. A photographer "discovered" the naturally photogenic Norma Jeane while she was working in a California munitions factory, and she was soon launched into a successful modeling career. She divorced Dougherty in June 1946 and soon after signed a film contract with 20th Century Fox.
At the outset of her acting career, Norma Jeane dyed her brown hair blonde and changed her name again, calling herself Marilyn Monroe (Monroe was her grandmother's last name). After a bit part in 1947's The Shocking Miss Pilgrim, she had a string of forgettable roles before landing a spot in John Huston's thriller The Asphalt Jungle (1950). That same year, she also drew attention for her work in All About Eve, starring Bette Davis. Her true breakout performance, however, came in Niagara (1953), a thriller in which Monroe played an adulterous young wife who plots with her lover to kill her husband.
After starring turns in Gentleman Prefer Blondes and How to Marry a Millionaire in 1953, Monroe was at the top of Hollywood's A-list. In January 1954, she married baseball great Joe DiMaggio at San Francisco City Hall. Though the press hailed their relationship as the quintessential All-American love affair, trouble began brewing almost immediately. DiMaggio was notoriously uncomfortable with his new wife's sexy public image, and her wild popularity, as evidenced by the near-riot among U.S. servicemen stationed in Korea during a performance she gave in the middle of the couple's honeymoon. They would divorce that October, after only nine months of marriage, but remained good friends.
Monroe attempted to switch to more serious acting roles, studying at the prestigious Actors' Studio in New York. She earned positive reviews for her more nuanced work in Bus Stop (1956), The Prince and the Showgirl (1957) and particularly Some Like It Hot (1959). By 1961, however, trouble in Monroe's personal life, her third marriage, to the acclaimed playwright Arthur Miller, dissolved after four years had led to her increasing emotional fragility, and that year she was admitted on two occasions to hospitals for psychiatric observation and rest. Her final film was The Misfits (1961), written by Miller and co-starring Montgomery Clift and Clark Gable (it would also be Gable's final appearance on-screen.) In June 1962, Fox dismissed the actress after repeated and extended absences from the set of Something's Got to Give. On August 5, 1962, Monroe was found dead from an overdose of barbiturates in her home in Brentwood, California. She was 36 years old.