2012
05.10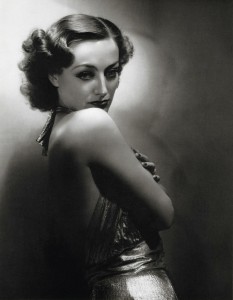 On this date in 1977, legendary actress Joan Crawford dies at her New York City apartment. Born Lucille Fay Le Sueur (her birth year has been variously recorded as 1904 or 1908), Crawford was a nightclub dancer who broke into Broadway musicals in the Jazz Age of the 1920s. She first twisted her way into Hollywood stardom as a vivacious flapper in the 1928 silent film Our Dancing Daughters. She made a series of similar pictures, including Dancing Lady (1933), which co-starred Fred Astaire in his silver-screen debut. Crawford's seamless transition into the sound film era made her one of the most popular and by the late 1930s was one of the highest-paid leading ladies in Hollywood. She fought for more varied and less stereotypical parts, winning dramatic roles in films such as The Women (1939), Susan and God (1940), Strange Cargo (1940) and A Woman's Face (1941). In 1945, just when her career appeared to be on the wane, Crawford turned in the performance for which she would most be remembered, playing the title role in Mildred Pierce. As the waitress and single mother who makes her fortune with a chain of restaurants, Crawford won an Academy Award for Best Actress and established herself as a respected dramatic actress. She would be nominated for another Best Actress Oscar for 1947's Possessed and a third for 1952's Sudden Fear.
By the late 1950s, Crawford had become a representative for the Pepsi-Cola Company, whose board chairman and chief executive, Alfred N. Steele, she married in 1955. Three previous marriages–to the actors Douglas Fairbanks Jr., Franchot Tone and Phillip Terry–had ended in divorce. When Steele died in 1959, Crawford was named the first female director of Pepsi-Cola's board. In 1962, the tenacious actress made a celebrated foray into the horror genre with What Ever Happened to Baby Jane, co-starring Bette Davis. Having always enthusiastically welcomed and cultivated her fame, Crawford published her autobiography, A Portrait of Joan, that same year. She went on to make a number of thrillers in the last years of her career, as well as occasional appearances in television dramas. Less than two years after Crawford's death in 1977, her adopted daughter Christina published Mommie Dearest, in which she alleged that the famous actress had been emotionally and physically abusive to Christina and her adopted brother. The book was later made into a critically panned film, starring Faye Dunaway as Crawford.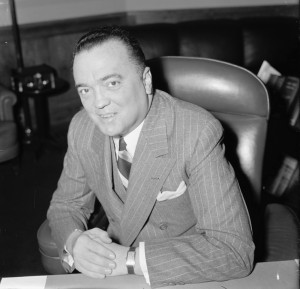 On this date in 1924, J. Edgar Hoover is named acting director of the Bureau of Investigation (now the FBI). By the end of the year he was officially promoted to director. This began his 48-year tenure in power, during which time he personally shaped American criminal justice in the 20th century. Hoover first became involved in law enforcement as a special assistant to the attorney general, overseeing the mass roundups and deportations of suspected communists during the Red Scare abuses of the late 1910s. After taking over the FBI in 1924, Hoover began secretly monitoring any activities that did not conform to his American ideal. Hoover approved of illegally infiltrating and spying on the American Civil Liberties Union. His spies could be found throughout the government, even in the Supreme Court. He also collected damaging information on the personal lives of civil rights activists, including Martin Luther King Jr. While Hoover's success at legitimate crime fighting was modest, his hold over many powerful people and organizations earned him respect and kept him in power. He was extremely successful at attracting attention and favorable press to the FBI. It wasn't until after his death in 1972, right before the beginning of the Watergate scandal, that Hoover's corruption became known.