2012
05.08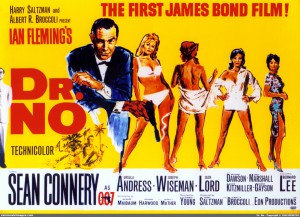 On this date in 1963, Dr. No premieres and moviegoers get their first look at the super-spy James Bond (codename: 007), the immortal character created by Ian Fleming in his now-famous series of novels and portrayed onscreen by the relatively unknown Scottish actor Sean Connery.
Connery had acted in Repertory Theater and television and scored some bit parts in films before landing his first significant role, opposite Lana Turner in Another Time, Another Place (1958). Bigger roles followed, notably in Tarzan's Greatest Adventure (1959). Harold Saltzman and Albert "Cubby" Broccoli, the producers of Dr. No, had other actors in mind to play Bond, including Cary Grant and James Mason; Fleming himself preferred another leading candidate, David Niven but after winning the role, Connery swiftly made it his own. Costarring Ursula Andress, Joseph Wiseman and Jack Lord, Dr. No sends Bond, a British Secret Service agent, to Jamaica to investigate the murders of a fellow agent and his secretary. There, he is forced to confront the villainous Chinese scientist Dr. No (Wiseman) with the help of a bikini-clad seashell collector, Honey Ryder (Andress) and a CIA agent (Lord). Dr. No established many signature elements of the Bond film series, including its distinctive theme song, fast-paced action sequences, sexy "Bond girls"–both good and bad, Bond's fondness for vodka martinis "shaken, not stirred" and his introduction of himself as "Bond. James Bond."
Connery went on to appear in six more Bond films, including From Russia With Love (1963), Goldfinger (1964), Thunderball (1965), You Only Live Twice (1967), Diamonds Are Forever (1971) and (after a 10-year hiatus) Never Say Never Again (1983). The title of the last film, an "unofficial" remake of Thunderball, was a self-mocking reference to Connery's past statements that he had finished with the Bond franchise. Though he was a major box-office attraction after the overwhelming success of Goldfinger, Connery had reportedly already tired of playing Bond by the time he made Thunderball (1965). Afraid of being pinned down to his famous alter ego, he began seeking out different and more challenging roles, scoring hits with such films as The Man Who Would Be King (1975). With acclaimed turns in The Name of the Rose (1986) and The Untouchables (1987), for which he won an Academy Award for Best Supporting Actor, Connery moved fully out of the Bond spotlight and emerged one of Hollywood's most venerable leading men.
Meanwhile, other actors kept the Bond franchise going over the years, with varying degrees of success. George Lazenby played Bond in only one film, On Her Majesty's Secret Service (1969), while Roger Moore had a well-received run of seven films, beginning with Live and Let Die (1973) and ending with A View to a Kill (1985). After two films starring Timothy Dalton (1987's The Living Daylights and 1989's Licence to Kill), Pierce Brosnan was credited with breathing new life into the franchise with his debonair portrayal of Bond in four films: GoldenEye (1995), Tomorrow Never Dies (1997), The World is Not Enough (1999) and Die Another Day (2002). Daniel Craig, a brawnier Bond, made his debut in the hit Casino Royale (2006) and continued in Quantum of Solace (2008).