2012
05.07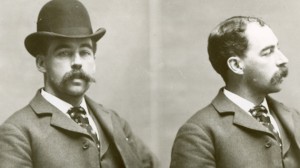 On this date in 1896, Dr. H. H. Holmes, one of America's first well-known serial killers, is hanged to death in Philadelphia, Pennsylvania. Although his criminal exploits were just as extensive and occurred during the same time period as Jack the Ripper, the Arch Fiend–as Holmes was known–has not endured in the public's memory the way the Ripper has. Born with the unfortunate moniker Herman Mudgett in New Hampshire, Holmes began torturing animals as a child. Still, he was a smart boy who later graduated from the University of Michigan with a medical degree. Holmes financed his education with a series of insurance scams whereby he requested coverage for nonexistent people and then presented corpses as the insured. In 1886, Holmes moved to Chicago to work as a pharmacist. A few months later, he bought the pharmacy from the owner's widow after his death. She then mysteriously disappeared. With a new series of cons, Holmes raised enough money to build a giant, elaborate home across from the store. The home, which Holmes called "The Castle," had secret passageways, fake walls, and trapdoors. Some of the rooms were soundproof and connected by pipes to a gas tank in the basement. His bedroom had controls that could fill these rooms with gas. Holmes' basement also contained a lab with equipment used for his dissections. Young women in the area, along with tourists who had come to see the 1893 World's Fair in Chicago, and had rented out rooms in Holmes' castle, suddenly began disappearing. Medical schools purchased many human skeletons from Dr. Holmes during this period but never asked how he obtained the anatomy specimens. Holmes was finally caught after attempting to use another corpse in an insurance scam. He confessed, saying, "I was born with the devil in me. I could not help the fact that I was a murderer, no more than a poet can help the inspiration to sing." Reportedly, authorities discovered the remains of over 200 victims on his property. Devil in the White City, a book about Holmes' murder spree and the World Fair by Erik Larson, was published in 2003.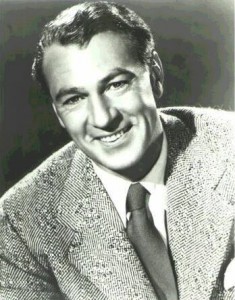 On this date in 1901, Gary Cooper, the star of High Noon and other classic Westerns, is born in Helena, Montana. Born Frank James Cooper, he was the son of well-to-do lawyer who eventually won election to the Montana Supreme Court Justice. The family owned a 500-acre ranch near Helena, where Cooper became a skilled horseman. As a young man, Cooper put his backcountry skills to good use as a guide at Yellowstone Park, but his real dream was to become a cartoonist for a big city newspaper. After attending Grinnell College in Iowa for several years, Cooper moved to Los Angeles in 1924. At the time, Hollywood was churning out countless low-budget western movies that catered to the American fascination with a mythic west of noble cowboy, brave cavalry soldiers, and vicious outlaws. In a city dominated by cars, however, the studios found it difficult to find skilled horsemen to ride in these so-called "horse operas." On a lark, Cooper had applied for work as a movie extra. When producers discovered he had grown up riding horses on a Montana ranch, they quickly put him to work as stunt rider and a cowboy heavy. Soon after, he abandoned the dream of becoming a cartoonist for the glamorous world of Hollywood.
Cooper appeared in a string of low-budget two-reel Westerns for the next two years before he finally caught the eye of Sam Goldwyn of the famous MGM studio. Goldwyn gave him a small role in the popular 1926 movie The Winning of Barbara Worth, which earned Cooper favorable reviews and bigger roles. Three years later, Cooper won the lead part in a movie version of the famous Owen Wister western novel The Virginian. Cooper's laconic, understated style of acting was well suited to portraying the Virginian, a coolly competent cowboy who avoided trouble when he could but was quick with a gun when his honor was at stake. Generations of subsequent cowboy actors, from John Wayne to Clint Eastwood, borrowed many elements of Cooper's Virginian for their own characters.
The success of The Virginian made Cooper one of Hollywood's leading male actors. He went on to star in a number of films, including A Farewell to Arms (1932), Beau Geste (1939), and The Pride of the Yankees (1942). Cooper never abandoned the genre that began his career, though, and he continued to appear in successful Westerns like The Plainsman (1937) and The Westerner (1940). Appropriately, one of Cooper's last great roles was in a Western that is generally considered a classic of the genre. In High Noon, Cooper plays an aging town marshal who faces a showdown with four killers arriving by train at noon. Despite having honorably served the citizens of the town for years, Cooper's marshal is unable to convince any of the cowardly townspeople to stand with him as he confronts the outlaws. As the hands of a loudly ticking wall clock inch towards high noon, the marshal prepares to fight alone. A profound meditation on the dangers of social conformity and cowardice, High Noon was also a hugely entertaining and successful western tale of suspense. Cooper won his second Academy Award for Best Actor with High Noon (his first had come in 1941 for Sergeant York), confirming his status as one of the most talented actors in western movies. Cooper was 51 years old when High Noon was released. During the next decade, he made several other films, though none were as successful as his earlier works. In 1961, the Motion Picture Academy gave Cooper a special Academy Award for career achievement. When his friend Jimmy Stewart rose to accept the award for Cooper, Stewart broke down and revealed that the actor was seriously ill with cancer. Cooper died shortly after at the age of 60.