2012
05.04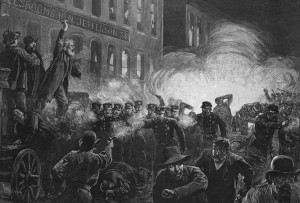 On this date in 1886, a bomb is thrown at a squad of policemen attempting to break up a labor rally at Haymarket Square in Chicago, Illinois. The police responded with wild gunfire, killing several people in the crowd and injuring dozens more.
The demonstration, which drew some 1,500 Chicago workers, was organized by German-born labor radicals in protest of the killing of a striker by the Chicago police the day before. Midway into the rally, which had thinned out because of rain, a force of nearly 200 policemen arrived to disperse the workers. As the police advanced toward the 300 remaining protesters, an individual who was never positively identified threw a bomb at them. After the explosion and subsequent police gunfire, more than a dozen people lay dead or dying, and close to 100 were injured.
The Haymarket Square Riot set off a national wave of xenophobia, as hundreds of foreign-born radicals and labor leaders were rounded up in Chicago and elsewhere. A grand jury eventually indicted 31 suspected labor radicals in connection with the bombing, and eight men were convicted in a sensational and controversial trial. Judge Joseph E. Gary imposed the death sentence on seven of the men, and the eighth was sentenced to 15 years in prison. On November 11, 1887, Samuel Fielden, Adolph Fischer, August Spies, and Albert Parson were executed. Of the three others sentenced to death, one committed suicide on the eve of his execution and the other two had their death sentences commuted to life imprisonment by Illinois Governor Richard J. Oglesby. Governor Oglesby was reacting to widespread public questioning of their guilt, which later led his successor, Governor John P. Altgeld, to pardon fully the three activists still living in 1893.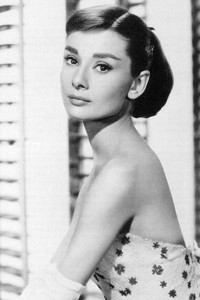 On this day in 1929, Edda van Heemstra Hepburn-Ruston–who will one day be better known to legions of film fans as Audrey Hepburn is born near Brussels, Belgium.
The daughter of an English banker and a Dutch baroness, Hepburn was attending school in London when World War II erupted in Europe. During the war, the Nazis occupied Holland, where the young Audrey and her mother were staying, and the family suffered many hardships. Hepburn continued to pursue her ballet studies, and at war's end, she returned to London, where she modeled and began acting in small parts on stage and screen. In 1951, Hepburn was "discovered" by the French writer Colette while in Monaco shooting a film. Colette insisted Hepburn be cast in the title role of the Broadway version of her novel Gigi, and the young actress made her Broadway debut that same year.
Hepburn's success in Gigi led directly to her being cast as the lead in the 1953 film Roman Holiday. For her portrayal of a headstrong young princess who falls in love with a journalist (played by Gregory Peck) while on the loose in Rome, Hepburn won the Academy Award for Best Actress. She won a Tony Award for Best Actress the same year, for her starring turn in Ondine. Over the next decade, Hepburn proved herself more than a match for Hollywood's top leading men in such hits as Sabrina (1954, with William Holden and Humphrey Bogart), Funny Face (1957, with Fred Astaire) and Love in the Afternoon (1957, with Gary Cooper).
As the inimitable Holly Golightly in Breakfast at Tiffany's (1961), Hepburn earned her fourth Oscar nod for Best Actress (she was also nominated for Sabrina and 1959's A Nun's Story). She sparked a controversy when she was picked to star as Eliza Doolittle in the film version of the musical My Fair Lady (1964), beating out Julie Andrews, who had originated the role on Broadway. Three years later, Hepburn scored a fifth Academy Award nomination for Wait Until Dark, a film that was produced by her then-husband, Mel Ferrer (they married in 1954). She left full-time acting shortly thereafter (though she would continue to appear sporadically in movies, notably as Maid Marian opposite Sean Connery's Robin Hood in 1976's Robin and Marian) and spent most of her time at her home in Switzerland. Hepburn and Ferrer, who had two sons, divorced in 1968, and Hepburn married Andrea Dotti, an Italian psychiatrist, the following year; they had one son together. After divorcing Dotti, Hepburn began a relationship with Robert Wolders, a Dutch actor, in 1980.
In her semi-retirement from acting, Hepburn devoted most of her energy to charitable causes, most notably UNICEF, the United Nation's children's fund, for which she was named a special ambassador in 1988. Hepburn's field trips for UNICEF took her around the globe, from Guatemala, Honduras, Venezuela and El Salvador, to Turkey, Thailand, Bangladesh and Sudan. She was also an eloquent public voice for the organization, helping to raise money and awareness for its work by speaking before the U.S. Congress, among other venues. In 1992, she was awarded the Presidential Medal of Freedom. Hepburn made her final film appearance in Steven Spielberg's film Always (1989), in which she played an angel. In 1992, shortly after returning from a UNICEF trip to Somalia, Hepburn was diagnosed with colon cancer. After undergoing surgery that November, she died on January 20, 1993, at her home near Lausanne, Switzerland, at the age of 63.