2012
05.01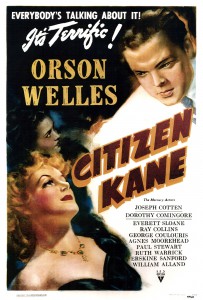 On this date in 1941, Citizen Kane, was premiered at the RKO Palace Theater.
Months before its release, Orson Welles' landmark film Citizen Kane began generating such controversy that Radio City Music Hall eventually refused to show it. By the time he began working on Citizen Kane, the 24-year-old Welles had already made a name for himself as Hollywood's enfant terrible. He first found success on Broadway and on the radio; his October 1938 broadcast version of the science-fiction classic The War of the Worlds was so realistic that many listeners actually believed Martians had invaded New Jersey. Having signed a lucrative contract with RKO studios, Welles was struggling to find a subject for his first feature film when his friend, the writer Herman Mankiewicz, suggested that he base it on the life of the publishing baron William Randolph Hearst. Hearst presided over the country's leading newspaper empire, ruling it from San Simeon, a sprawling estate perched atop a hill along California's central coastline.
A preview of Citizen Kane in early February 1941 had drawn almost universally favorable reviews from critics. However, one viewer, the leading Hollywood gossip columnist Hedda Hopper, was incensed by the film and Welles' portrayal of its protagonist, Charles Foster Kane. She took her concerns to Hearst himself, who soon began waging a full-scale campaign against Welles and his film, barring the Hearst newspapers from running ads for it and enlisting the support of Hollywood bigwigs such as Louis B. Mayer of Metro-Goldwyn-Mayer. It was said Hearst was particularly angry over the movie's depiction of a character based on his companion, Marion Davies, a former showgirl whom he had helped become a popular Hollywood actress. For his part, Welles threatened to sue Hearst for trying to suppress the film and also to sue RKO if the company did not release the film.
When Citizen Kane finally opened in May 1941, it was a failure at the box office. Although reviews were favorable, and it was nominated for nine Academy Awards, Welles was booed at that year's Oscar ceremony, and RKO quietly archived the film. It was only years later, when it was re-released, that Citizen Kane began to garner well-deserved accolades for its pioneering camera and sound work, as well as its complex blend of drama, black comedy, history, biography and even fake-newsreel or "mockumentary" footage that has informed hundreds of films produced since then. It consistently ranks at the top of film critics' lists, most notably grabbing the No. 1 spot on the American Film Institute's poll of America's 100 Greatest Films.
After Citizen Kane, Welles' diverse works consisted of everything from Shakespearean adaptations to documentaries. Some of his most acclaimed films included The Stranger (1946), The Lady from Shanghai (1948) and Chimes at Midnight (1966). In his later years, he narrated documentaries and appeared in commercials, and he left behind several unfinished films when he died on October 10, 1985 at the age of seventy.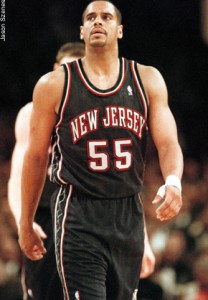 On this date in 2002, former NBA All-Star Jayson Williams was indicted on a series of charges, including aggravated manslaughter, in connection with the shooting death of limousine driver Costas Christofi at Williams' estate on February 14.
Williams enjoyed a successful NBA career with the Philadelphia 76ers and New Jersey Nets from 1990 to 1999, when a leg injury forced his retirement. Though he had several brushes with the law, Williams was better known for his affable demeanor and off-the-court charity and youth work, and was widely praised for taking in his nephews after two of his sisters died of AIDS. That all changed on February 14, 2001, when police were called to Williams' 65-acre estate in Alexandria Township, New Jersey, after the shooting of Christofi. A 911 tape reveals that the caller alluded that a man at the estate had shot himself, and that is what witnessed told police when they first arrived at the scene. Soon, though, the story changed, and witnesses began to reveal that it was actually Williams who had been holding the gun.
According to reports, Christofi had been hired to drive a group of Williams' friends, including several members of the Harlem Globetrotters, to a local restaurant, while another group drove with Williams. Once at the restaurant, the men racked up a significant liquor bill. Christofi then drove some of the group back to Williams' estate, where he was invited inside. As the evening continued, Williams invited his guests to check out his gun collection in his mansion's master bedroom. Prosecutors allege that soon after, he took out a Browning 12-gauge shotgun, and, with it pointed toward Christofi, yanked it upward. The gun discharged, sending the fatal buckshot into the driver's stomach. Some witnesses say Williams almost immediately began tampering with the scene to make it appear that Christofi killed himself while the rest of the group had been elsewhere in the house. Williams allegedly jumped into a swimming pool to clean himself, changed clothes, wiped down the shotgun and repositioned it. They also say Williams pressured them to lie to police.
Williams was indicted for aggravated manslaughter and witness and evidence tampering, among other charges. On April 30, 2004, after a three-month trial, he was acquitted of the most serious charge, aggravated manslaughter, but convicted of four cover-up charges. The jury was unable to reach a verdict on reckless manslaughter, the second most serious charge. Jurors said afterward that they just did not believe Williams intended to kill Christofi. On May 21, prosecutors took the first steps toward retrying Williams. After several years of delays, in February 2010 he pled guilty to aggravated assault and was sentenced to five years in prison.