2012
04.25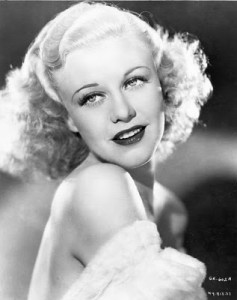 On this day in 1995, the actress Ginger Rogers, best known for the 10 films she made with her dance partner Fred Astaire, dies at the age of 83. Born in Missouri, Rogers began taking dance and singing lessons as a toddler. By age five, she was appearing in commercials. At age 15, she won a Charleston dancing contest and soon after began touring the Southern and Midwestern vaudeville circuit with her act, "Ginger and the Redheads." Her mother, Lela, a reporter and writer, worked as Ginger's manager and traveled with her as a chaperone. She and Ginger's father had divorced shortly after Ginger was born, and Lela would continue to manage her daughter's career until her death in 1971.
After making a splash on Broadway in George Gershwin's hit play Girl Crazy, Rogers signed a film contract in 1931. She would play a series of wisecracking blondes in a number of B movies, working at various studios before settling at RKO. In 1933, she was paired with Fred Astaire in Flying Down to Rio. Although she lacked formal ballroom training, she and Astaire made a perfect match on the dance floor. Audiences flocked to the 10 movies they made together, including The Gay Divorcee (1933), Top Hat (1935), Swing Time (1936) and Shall We Dance? (1937). Apart from her graceful dance moves, Rogers also established her credentials as a serious actress with her performance in the 1940 film Kitty Foyle, for which she won an Academy Award for Best Actress.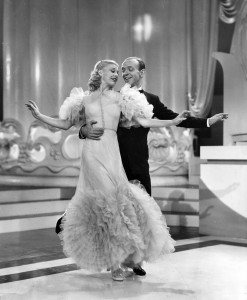 According to an obituary published in the New York Times, Rogers was the highest-paid women in America by 1941, earning $355,000 per year. In addition to a hilltop mansion in Beverly Hills, she also bought a ranch on Oregon's Rogue River, where she spent as much of her free time as possible. Married and divorced five times, Rogers had no children. She continued to perform into the mid-1960s. Rogers made her final film appearance in 1965, when she played the mother of the actress Jean Harlow in the biopic Harlow. Rogers is buried at Oakwood Memorial Park in Chatsworth, California, not far from her long time dance partner Fred Astaire.