2012
04.18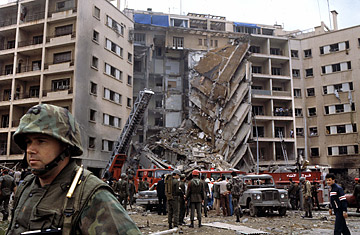 On this date in 1983, the U.S. embassy in Beirut, Lebanon, is almost completely destroyed by a car-bomb explosion that kills 63 people, including the suicide bomber and 17 Americans. The terrorist attack was carried out in protest of the U.S. military presence in Lebanon.
In 1975, a bloody civil war erupted in Lebanon, with Palestinian and leftist Muslim guerrillas battling militias of the Christian Phalange Party, the Maronite Christian community, and other groups. During the next few years, Syrian, Israeli, and United Nations interventions failed to resolve the factional fighting, and on August 20, 1982, a multinational force featuring U.S. Marines landed in Beirut to oversee the Palestinian withdrawal from Lebanon. The Marines left Lebanese territory on September 10 but returned on September 29, following the massacre of Palestinian refugees by a Christian militia. The next day, the first U.S. Marine to die during the mission was killed while defusing a bomb, and on April 18, 1983, the U.S. embassy in Beirut was bombed. On October 23, Lebanese terrorists evaded security measures and drove a truck packed with explosives into the U.S. Marine barracks in Beirut, killing 241 U.S. military personnel. Fifty-eight French soldiers were killed almost simultaneously in a separate suicide terrorist attack. On February 7, 1984, U.S. President Ronald Reagan announced the end of U.S. participation in the peacekeeping force, and on February 26 the last U.S. Marines left Beirut.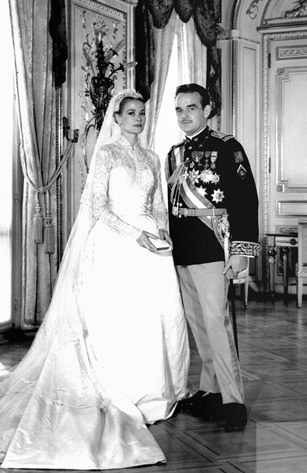 On this date in 1956, actress Grace Kelly marries Prince Rainier of Monaco. Kelly, the daughter of a former model and a wealthy industrialist, began acting as a child. After high school, she attended the American Academy for Dramatic Arts in New York. While she auditioned for Broadway plays, she supported herself by modeling and appearing in TV commercials. In 1949, Kelly debuted on Broadway in The Father by August Strindberg. Two years later, she landed her first Hollywood bit part, in Fourteen Hours. Her big break came in 1952, when she starred as Gary Cooper's wife in High Noon. Her performance in The Country Girl, as the long-suffering wife of an alcoholic songwriter played by Bing Crosby, won her an Oscar in 1954. The same year, she played opposite Jimmy Stewart in Alfred Hitchcock's Rear Window.
While filming another Hitchcock movie, To Catch a Thief (1955), in the French Riviera, Kelly met Prince Rainier of Monaco. It wasn't love at first sight for Kelly, but the prince initiated a long correspondence, which led to their marriage in 1956. Afterward, she became Princess Grace of Monaco and retired from acting. She had three children and occasionally narrated documentaries. Kelly died tragically at the age of 52 when her car plunged off a mountain road by the Cote D'Azur in September 1982.