2012
03.12
Who was born on this date: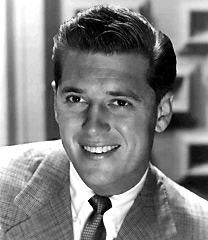 Actor Gordon MacRae was born on March 12, 1921 in East Orange, New Jersey. He is best known for his appearances in the film Oklahoma (1955) and Carousel. In 1951, he starred with Doris Day in On Moonlight Bay, followed by the sequel By the Light of the Silvery Moon in 1953. MacRae made numerous TV appearances. He died on January 24, 1986 from cancer of the mouth and jaw and is buried at Wyuka Cemetery in Lincoln, Nebraska.
Who died on this date: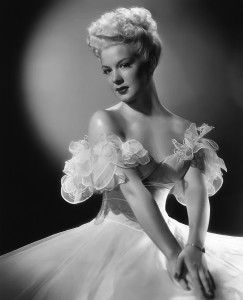 On March 12, 2007, actress Betty Hutton died. She was born Elizabeth June Thornburg on February 26, 1921 in Battlecreek, Michigan. In 1939 she appeared in several musical shorts for Warner Bros., and appeared in a supporting role on Broadway in Panama Hattie and Two for the Show. In 1942, Hutton was signed with Paramount Studios and appeared in The Fleet's In, co-starring Dorothy Lamour. Hutton was an instant hit with the movie-going public. Paramount did not immediately promote her to major stardom, however, but did give her second leads in, Star Spangled Rhythm (1943), and another Lamour film. In 1943 she was given co-star billing with Bob Hope in Let's Face It and with the release of The Miracle of Morgan's Creek the following year, Hutton attained major stardom. By the time Incendiary Blonde was released in 1945, she had supplanted Lamour as Paramount's number one female box office draw. Hutton made 19 films from 1942 to 1952 including the hugely popular The Perils of Pauline in 1947. She was billed above Fred Astaire in the 1950 musical Let's Dance. Hutton's greatest screen triumph came in Annie Get Your Gun (1950) for MGM, which hired her to replace an exhausted Judy Garland in the role of Annie Oakley.
Her career as a Hollywood star ended due to a contract dispute with Paramount following the Oscar-winning The Greatest Show on Earth (1952) and Somebody Loves Me (1952). The New York Times reported that the dispute resulted from her insistence that her husband at the time, Charles O'Curran, direct her next film. When the studio declined, Hutton broke her contract. Hutton's last completed film was a small one, Spring Reunion, released in 1957, a drama in which she gave an understated, sensitive performance. Unfortunately, box office receipts indicated the public did not want to see a subdued Hutton. Hutton got work in radio, appeared in Las Vegas and in nightclubs, and then tried her luck in the new medium of television.
After the 1967 death of her mother in a house fire and the collapse of her last marriage, Hutton's depression and pill addictions escalated. She divorced her fourth husband, and declared bankruptcy. Hutton had a nervous breakdown and later attempted suicide after losing her singing voice in 1970. After regaining control of her life through rehab, and the mentorship of a Roman Catholic priest, Father Peter Maguire, Hutton converted to Catholicism and took a job as a cook at a rectory. She made national headlines when it was revealed she was working in a rectory.
Her last known performance, in any medium, was on Jukebox Saturday Night, which aired on PBS in 1983. Hutton stayed in New England and began teaching comedic acting at Boston's Emerson College. After the death of her ally, Father Maguire, Hutton returned to California, moving to Palm Springs in 1999. Hutton hoped to grow closer with her daughters and grandchildren. She died from colon cancer on March 12, 2007 and is buried at Desert Memorial Park in Cathedral City, California.