2012
02.23
Who was born on this date: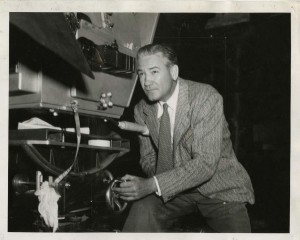 Director Victor Fleming was born on February 23, 1889 in Pasadena, California. He began his career in Hollywood as a stuntman but soon found that his true calling was behind the camera as a director. Fleming's motion picture directorial career spanned nearly thirty years from 1919 to 1948, and included forty-eight films. He won the 1940 best director Oscar for Gone with the Wind and is also famous for directing The Wizard of Oz (1939). Other notable film credits include: The Way of All Flesh (1927), The Virginian (1929), Renegades (1930), Treasure Island (1934), Captains Courageous (1937), Dr. Jekyll and Mr. Hyde (1941), and Joan of Arc (1948). On January 6, 1949, while vacationing with his family near Cottonwood, Arizona, the award winning director died of a heart attack. His funeral was held at the Alban's Episcopal Church in West Los Angeles. In attendance were numerous celebrities including Jimmy Stewart, John Wayne, Louis B. Mayer, Samuel Goldwyn, and Van Johnson. Fleming is interred at Hollywood Forever Cemetery, Hollywood, California.
Who died on this date: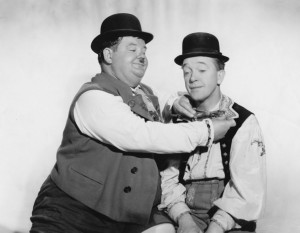 On February 23, 1965, actor Stan Laurel died. He was born on June 16, 1890 in Lancashire, England. He is best known as the first half of the comedy team Laurel and Hardy. His film acting career stretched between 1917 and 1951 and included a starring role in the Academy Award winning film The Music Box (1932). In 1910, with the stage name of "Stan Jefferson", he joined Fred Karno's troupe of actors, which also included a young Charlie Chaplin. For some time, he acted as Chaplin's understudy. The Karno troupe toured America, and brought both Chaplin and Jefferson to the United States for the first time. From 1916 to 1918, he teamed up with Alice Cooke and Baldwin Cooke, who became lifelong friends. Amongst other performers, Jefferson worked briefly alongside Oliver Hardy in a silent film short The Lucky Dog. Around the same time he adopted the stage surname of Laurel.
Laurel went on to join the Hal Roach studio, and began directing films, including a 1926 production called Yes, Yes, Nanette. He intended to work primarily as a writer and director, but fate stepped in. In 1927, Oliver Hardy, another member of the Hal Roach Studios Comedy All Star players, was injured in a kitchen mishap and Laurel was asked to return to acting. Laurel and Hardy began sharing the screen in Slipping Wives, Duck Soup and With Love and Hisses. The two became friends and their comic chemistry soon became obvious. Roach Studios' supervising director Leo McCarey noticed the audience reaction to them and began teaming them, leading to the creation of the Laurel and Hardy series later that year.
Together, the two men began producing a huge body of short films, including The Battle of the Century, Should Married Men Go Home?, Two Tars, Be Big!, Big Business, and many others. Laurel and Hardy successfully made the transition to talking films with the short, Unaccustomed As We Are in 1929. They also appeared in their first feature in one of the revue sequences of The Hollywood Revue of 1929 and the following year they appeared as the comic relief in a lavish all-color (in Technicolor) musical feature, The Rogue Song. In 1931, their own first starring feature, Pardon Us was released, although they continued to make both features and shorts until 1935, including their 1932 film, The Music Box which won an Academy Award for Best Short Subject.
During the 1930's, Laurel was involved in a dispute with Hal Roach, which resulted in the termination of his contract. Since Roach maintained separate contracts for Laurel and Hardy that expired at different times, Hardy remained at the studio and was "teamed" with Harry Langdon for the 1939 film Zenobia. There was also talk about a series of films co-starring Hardy with Patsy Kelly called "The Hardy Family." But Laurel sued Roach over the contract dispute. Eventually, the case was dropped and Laurel returned to Roach. After returning to Roach studios, the first film Laurel and Hardy made was A Chump at Oxford. Subsequently, they made Saps at Sea, which was their last film for Roach.
On August 7, 1957, Oliver Hardy died. Laurel did not attend his funeral, stating "Babe would understand." People who knew Laurel said he was absolutely devastated by Hardy's death and never fully recovered for the rest of his life. In 1961, Stan Laurel was given a Lifetime Achievement Academy Award for his pioneering work in comedy. He had achieved his lifelong dream as a comedian and had been involved in nearly 190 films. He lived his final years in a small apartment in the Oceana Hotel in Santa Monica, California. Laurel was a heavy smoker until suddenly giving up when he was about seventy years of age. He died on February 23, 1965, aged 74, several days after suffering a heart attack and is buried at Forest Lawn Hollywood Hills Cemetery.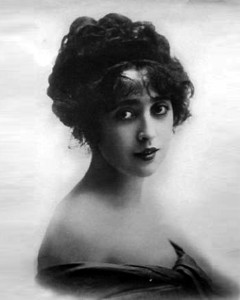 On February 23, 1930, actress Mabel Normand died. She was born on November 9, 1892 in New Brighton, Staten Island, New York. She was a silent film actress and popular star of Mack Sennett's Keystone Studios. Throughout the 1920s her name was linked with scandal including the 1922 murder of director William Desmond Taylor, after which, her film career declined, possibly due to the scandal and a recurrence of tuberculosis in 1923. Director William Desmond Taylor shared her interest in books and the two formed a close relationship. Taylor was deeply in love with Normand, who had originally approached him for help in curing her cocaine dependency. Based upon Normand's subsequent statements to investigators, her repeated relapses were devastating for Taylor. According sources Taylor met with Federal prosecutors shortly before his death and offered to assist them in filing charges against Normand's cocaine suppliers. It is believed that Normand's suppliers learned of this meeting and hired a contract killer to murder the director. According to these same sources, Normand suspected the reasons for her lover's murder, but did not know the identity of the triggerman.
On the night of Taylor's murder, February 1, 1922, Normand left Taylor's bungalow at 7:45 p.m. in a happy mood, carrying a book he had given her as a loan. They blew kisses to each other as her limousine drove away. Normand was the last person known to have seen Taylor alive. The LAPD subjected Normand to a grueling interrogation, but ruled her out as a suspect. However, Normand's career had already slowed and her reputation was tarnished by revelations of her addiction, which was seen as a moral failing. In 1926 she married actor Lew Cody, however, her film career never recovered and health issues developed. After an extended stay in a sanitarium she died from tuberculosis on February 23, 1930 and was buried at Calvary Cemetery in Los Angeles.