2012
02.15
Who was born on this date: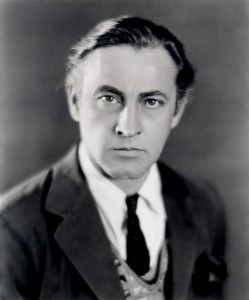 Actor John Barrymore was born John Sidney Blyth on February 15, 1882 in Philadelphia. His parents were Maurice Barrymore and Georgie Drew Barrymore. His maternal grandmother was Louisa Lane Drew (aka Mrs Drew), a prominent and well-respected 19th-century actress and theater manager, who instilled in him and his siblings the ways of acting and theatre life. His uncles were John Drew, Jr. and Sidney Drew. Barrymore studied to be an artist and worked on New York newspapers before deciding to go into the family business as an actor.
He first gained fame as a handsome stage actor in light comedies, then drama which culminated in groundbreaking portrayals in Shakespearean plays Hamlet and Richard III. His success continued with motion pictures in various genres in both the silent and sound eras. Barrymore's personal life has been the subject of much writing before and since his passing. Today, John Barrymore is mostly known for his roles in movies like Dr Jekyll & Mr Hyde (1920), Grand Hotel (1932), Dinner at Eight (1933), Twentieth Century (1934), and Don Juan (1926), the first ever movie to use a Vitaphone soundtrack.
A member of a multi-generation theatrical dynasty, he was the brother of Lionel Barrymore and Ethel Barrymore, and was the paternal grandfather of actress Drew Barrymore. Barrymore delivered some of the most critically acclaimed performances in theatre and film history and was widely regarded as the screen's greatest performer during a movie career spanning 25 years and
more than 60 films. In 1929, Barrymore collapsed on his boat the Mariner, off the coast of Mexico while on honeymoon with wife Dolores, requiring doctor's care. Much of his newly occurring health problems most likely stemmed from consumption of illegal alcohol.
In the late 1930s, Barrymore began to lose his ability to remember his lines and from then on, he insisted on reading dialogue from cue cards. He gave one last great performance in MGM's 1936 Romeo and Juliet. He continued to give creditable performances in lesser pictures, for example as Inspector Nielson in Paramount Pictures' Bulldog Drummond mysteries, and RKO's 1939 feature The Great Man Votes. After that, his screen roles were caricatures of himself.
On May 29, 1942, Barrymore collapsed while appearing on Rudy Vallee's radio show and later died.
Allegedly, his dying words were "Die? I should say not, dear fellow. No Barrymore would allow such a conventional thing to happen to him." Gene Fowler attributes different dying words to Barrymore in his biography Good Night, Sweet Prince. According to Fowler, Barrymore roused as if to say something to his brother Lionel; who asked him to repeat himself, and he simply replied, "You heard me, Mike."
According to Errol Flynn's memoirs, film director Raoul Walsh "borrowed" Barrymore's body before burial, and left his corpse propped in a chair for a drunken Flynn to discover when he returned home from a night of revelry. However, Barrymore's friend Gene Fowler denied the story, stating that he and his son held vigil over the body at the mortuary until the funeral and burial. Barrymore was buried at Calvary Cemetery in East Los Angeles but years later, Barrymore's son John had the body reinterred at Philadelphia's Mount Vernon Cemetery.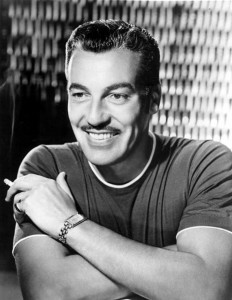 Actor Cesar Romero was born on February 15, 1907 in New York City. His wide range of screen roles included Latin lovers, historical figures in costume dramas, characters in light domestic comedies, and as "The Joker" in television's Batman series. Romero played "Latin lovers" in films from the 1930s until the 1950s, usually in supporting roles. He starred as The Cisco Kid in six westerns made between 1939 and 1941. Other film credits include The Thin Man (1934), and Captain from Castile (1947). He made numerous TV appearances from the 1950s to the 1980s, most notably in Batman. Romero died on January 1, 1994 from bronchitis and pneumonia and his ashes are interred at Inglewood Park Cemetery in Los Angeles.
Who died on this date: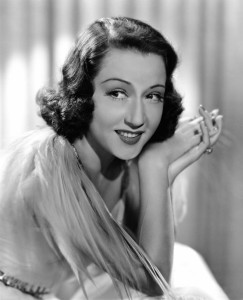 On February 15, 1984, actress/ singer Ethel Merman died. She was born Ethel Agnes Zimmerman on January 16, 1908 in Astoria, Queens, New York. She is primarily known for her powerful voice and roles in film and stage musicals. Notable film credits include Follow the Leader (1930), Let Me Call You Sweetheart (1932), Anything Goes (1936), and There's No Business Like Show Business (1954). On April 7, 1983, she was preparing to leave for Los Angeles to appear on the 55th Academy Awards telecast when she collapsed in her apartment. She was diagnosed with a malignant brain tumor. On the morning of February 15, 1984, she died in her sleep and is buried at the Shrine of Remembrance Mausoleum in Colorado Springs, Colorado.
.