2012
01.23
Who was born on this date: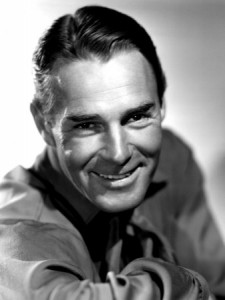 Actor Randolph Scott was born on January 23, 1898 in Orange County, Virginia. Scott appeared in a variety of film genres; however, his most enduring image is that of a Western hero. Out of his more than 100 film appearances more than 60 were in Westerns. Around 1927, Scott developed an interest in acting and decided to make his way to Los Angeles and seek a career in the motion picture industry. Fortunately, Scott's father had become acquainted with Howard Hughes and provided a letter of introduction for his son to present to the eccentric millionaire filmmaker. Hughes responded by getting Scott a small part in Sharp Shooters (1928). In the next few years, Scott continued working as an extra and bit player in several films, including The Virginian (1929) with Gary Cooper.
In 1931 Scott played his first leading role in Women Men Marry and followed that up with a supporting part in, A Successful Calamity. Following that, however, Paramount cast him as the lead in Heritage of the Desert (1932), his first significant starring role and also the one that established him as a Western hero. By 1935 Scott was firmly established as a popular movie star and, thus, following the release of Rocky Mountain Mystery (1935), Paramount moved him up to a star of "A" features. Scott married twice. In 1936 he became the second husband of heiress Marion Du Pont, the daughter of William Du Pont. Reputedly the couple spent little time together and the marriage ended in divorce three years later. Prior to and between his first and second marriages Scott was romantically linked with several prominent film actresses, including Lupe Velez, Sally Blane, Claire Trevor and Dorothy Lamour. In 1944 Scott married Patricia Stillman, with whom he adopted two children. The marriage lasted until Scott's 1987 death.
His most notable feature films include Roberta (1935), Follow the Fleet (1936), The Last of the Mohicans (1936), Rebecca of Sunnybrook Farm (1938), Jesse James (1939), Virginia City (1940), and My Favorite Wife (1940). Following Ride the High Country (1962), Scott retired from film at the age of 64. Scott died of heart and lung ailments on March 2, 1987 in Beverly Hills, California and he is buried at Elmwood Cemetery in Charlotte, North Carolina.
Who died on this date:
On January 23, 1992, child actor Freddie Bartholomew died. He was born on March 8, 1924 in Willesden, England. He was one of the most famous child actors of the Golden Age of Hollywood. His best known films were David Copperfield (1935), Captains Courageous (1937) and Little Lord Fauntleroy (1936). Despite his great success and acclaim following David Copperfield, Bartholomew's childhood film stardom was marred by nearly constant legal battles and payouts which eventually took a huge toll on both his finances and his career. In adulthood, after World War II service, Bartholomew's film career dwindled rapidly, and he switched from performing to directing and producing in the medium of television. Suffering from emphysema, Bartholomew retired from television by the late 1980s. He died on January 23, 1992 from emphysema in Sarasota, Florida and his cremated remains were given to family with final disposition being unknown.
.