2012
01.16
AMONG THE RUGGED PEAKS: The Carla Laemmle Story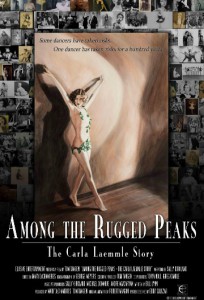 This is a documentary well worth seeing about an incredible actress Carla Laemmle, whose life is the equal of any movie she was in and that includes Bela Lugosi's 1931 version of Dracula and Lon Chaney, Sr.'s The Phantom of the Opera (1925). One of Hollywood's last remaining silent movie stars, Carla Laemmle celebrated her 102nd birthday on October 20, 2011.
Carla had the honor of first speaking part in the horror classic, Dracula (1931). The opening line in the documentary, "among the rugged peaks that crown down upon the Borgo Pass, are found crumbling castles of a bygone age." This is the title of her new documentary film 'Among the Rugged Peaks – The Carla Laemmle Story' narrated by Award Winning Actress Sally Kirkland. Carla, whose uncle was Universal Studios founder, Carl Laemmle, first arrived to Hollywood as a classically trained ballet dancer in 1921. Throughout her life she followed her diverse artistic passions, and appeared in a wide array of films like 'King of Jazz' in 1930 with George Gershwin, 'The Phantom of the Opera' in 1925 with Lon Chaney, and 'Night and Day' in 1946 with Cary Grant. 'Among the Rugged Peaks – The Carla Laemmle Story' produced and directed by Tom Tangen, takes Carla back to the original 'Phantom of the Opera' stage at Universal Studios to shed light on the risks and rewards of her life in film and dance. Documentarian Tom Tangen does a fantastic job of re-telling Carla's fascinating life story, through candid interviews with the actress and the people she has known.
The film premiered on January 15, 2012 at the 1st Annual Irvine International Film Festival. Ms. Laemmle made a special appearance and accepted the "Life Time Achievement Award" from the festival organizers. Asked after the screening if she had any advice for up and coming actresses, who are trying to make it in show business, Ms Laemmle paused and with a sheepish grin candidly stated "sleep with everyone."
.