2012
01.14
Who was born on this date: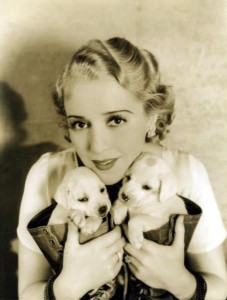 Actress Bebe Daniels was born on January 14, 1901in Dallas, Texas. She began her film career during the silent era as a child actress, and became the star of musicals such as 42nd Street (1933). She gained further fame on radio and television in Britain. In a long career, she made over 230 films. Daniels retired from Hollywood in 1935 and moved to London. On March 16, 1971, Daniels died of a cerebral hemorrhage in London. Her remains were cremated at London's Golder's Green Crematorium and the ashes were then interred at Hollywood Forever Cemetery in Hollywood, California.
Who died on this date: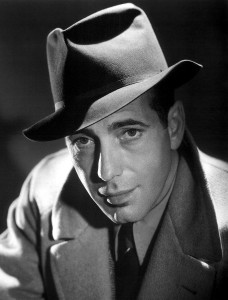 On January 14, 1957, actor Humphrey Bogart died. He was born on December 25, 1899 in New York City. The American Film Institute has ranked Bogart as the greatest male star in the history of American cinema. Bogart began acting in 1921 and became a regular in Broadway productions in the 1920s and 1930s. His first foray into movies was in The Petrified Forest (1936), and this led to a period of typecasting as a gangster with films such as Angels with Dirty Faces (1938) and others.
His breakthrough as a leading man came in 1941 with High Sierra and the Maltese Falcon. The next year, his performance in Casablanca raised him to the peak of his profession and, at the same time, cemented his trademark film persona, that of the hard-boiled cynic who ultimately shows his noble side. Other successes followed, including To Have and Have Not (1944); The Big Sleep (1946); Dark Passage (1947) and Key Largo (1948), with his wife (Lauren Baccall) in The Treasure of the Sierra Madre (1948); In a Lonely Place (1950); The African Queen (1951), for which he won his only Academy Award; Sabrina (1954); and The Caine Mutiny (1954). His last movie was The Harder They Fall (1956). During a film career of almost thirty years, he appeared in 75 feature films.
Bogart met Lauren Bacall while filming To Have and Have Not in 1944. When they met, Bacall was nineteen and Bogart was forty-five. He nicknamed her "Baby." Their physical and emotional rapport was very strong from the start, and the age difference and different acting experience also created the additional dimension of a mentor-student relationship. Quite contrary to the Hollywood norm, it was his first affair with a leading lady. Bogart was still miserably married and his early meetings with Bacall were discreet and brief, their separations bridged by ardent love letters. Yet Bogart was still torn between his new love and his sense of duty to his marriage. Divorce proceedings were initiated by February 1945. Bogart and Bacall then married in a small ceremony at the country home of Bogart's close friend near Lucas, Ohio.
By the mid-1950s, Bogart's health was failing. A heavy smoker and drinker, he contracted cancer of the esophagus but almost never spoke of his failing health and refused to see a doctor until January 1956. A diagnosis was made several weeks later and by then it was too late to halt the disease. Bogart had just turned 57 when he died on January 14, 1957 after falling into a coma at his home. His cremated remains are interred in Forest Lawn Glendale and buried with him is a small gold whistle, which he had given to Lauren Bacall, before they married. In reference to their first movie together, it was inscribed: "If you want anything, just whistle."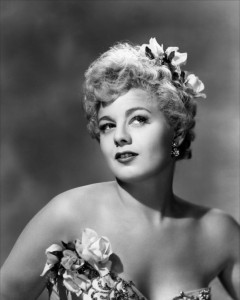 On January 14, 2006, actress Shelley Winters died. She was born Shirley Schrift on August 18, 1920 in St. Louis, Missouri. She would appear in dozens of films, as well as on stage and television; her career spanned over 50 years until her death in 2006. A two-time Academy Award winner, she most remembered for her roles in A Place in the Sun, The Big Knife, Lolita, The Night of the Hunter, Alfie, and The Poseidon Adventure.
Her first movie was What a Woman ! (1943) and throughout the 1940's, basically worked in bit parts. She achieved stardom with her breakout performance in George Cukor's, A Double Life (1947). She quickly landed leading roles in The Great Gatsby (1949) and Winchester 73 (1950). But it was her performance in A Place in the Sun (1951), a departure from the sexpot image that earned her a nomination for the Academy Award for Best Actress.
Throughout the 1950s, Winters continued in films, including Meet Danny Wilson (1952) and Night of the Hunter (1955). She returned to the stage on various occasions during this time, including a Broadway run in A Hatful of Rain, in 1955-1956. She won an Oscar for Best Supporting Actress for The Diary of Anne Frank in 1960, and another award, in the same category, for A Patch of Blue in 1966. Notable later roles include Stanley Kubrick's Lolita (1962), Alfie (1966) and Harper (1966). In 1972 she appeared in The Poseidon Adventure (for which she received her final Oscar nomination).
During her 50 years as a widely known personality, Winters was rarely out of the news. Her stormy marriages, her romances with famous stars, her forays into politics and feminist causes kept her name before the public. She delighted in giving provocative interviews and seemed to have an opinion on everything. In late life, she recalled her conquests in her autobiographies. She wrote of a yearly rendezvous she kept with William Holden, as well as her affairs with Sean Connery, Burt Lancaster, Errol Flynn and Marlon Brando. She died on January 14, 2006 of heart failure at the Rehabilitation Center of Beverly Hills and is buried at Hillside Memorial Park in Culver City, California.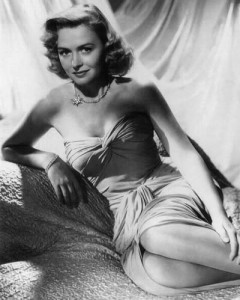 On January 14, 1986, actress Donna Reed died. She was born on January 27, 1921 in Denison, Iowa. Reed appeared in over 40 films and received the 1953, Academy Award for Best Supporting Actress for her performance in From here to Eternity. She is also noted for her role in the perennial Christmas favorite. It's a Wonderful Life (1946). Her "girl-next-door" good looks and warm on-stage personality made her a popular pin-up for many GI's during World War II. She worked extensively in television, notably as Donna Stone, an American middle class mother in the sitcom, The Donna Reed Show (1958–1966). Reed died from pancreatic cancer on January 14, 1986 in Beverly Hills, California and is buried at Westwood Village Memorial Park in Los Angeles, California.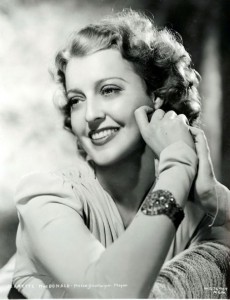 On January 14, 1965, actress Jeanette MacDonald died. She was born on June 18, 1903 in Philadelphia, Pennsylvania. She is best remembered for her musical films of the 1930's with Maurice Chevalier in Love Me Tonight, and The Merry Widow; Nelson Eddy in Naughty Marietta, Rose-Marie, and Maytime. During the 1930's and 1940's she starred in 29 feature films, four nominated for Best Picture Oscars, The Love Parade, One Hour with You, Naughty Marietta and San Francisco, and recorded extensively, earning three gold records. She later appeared in grand opera, concerts, radio, and television. MacDonald was one of the most influential sopranos of the 20th century, introducing grand opera to movie-going audiences and inspiring a generation of singers.
In 1929, famed film director Ernst Lubitsch was looking through old screen tests of Broadway performers and spotted MacDonald. He cast her as the leading lady in his first sound film, The Love Parade, which starred the Continental sensation Maurice Chevalier. In the first rush of sound films, 1929–30, MacDonald starred in six films, the first four for Paramount Studios. In hopes of producing her own films, MacDonald went to United Artists to make The Lottery Bride (1930) but the film was not successful. MacDonald next signed a three-picture deal with 20th Century Fox and was more successful. She took a break from Hollywood in 1931 to embark on a European concert tour. She returned to Paramount the following year for two films with Maurice Chevalier. In 1933 MacDonald left again for Europe and while there, signed with Metro-Goldwyn-Mayer. Her first MGM film was The Cat and the Fiddle (1934), her co-star was Ramon Novarro. The plot about unmarried lovers shacking up just barely slipped through the new Production Code guidelines that took effect July 1, 1934.
Naughty Marietta (1935), directed by W.S. Van Dyke, was MacDonald's first film in which she teamed with newcomer baritone Nelson Eddy. Victor Herbert's 1910 score, with songs like "Ah! Sweet Mystery of Life", "I'm Falling in Love with Someone", "'Neath the Southern Moon", "Tramp, Tramp, Tramp", and "Italian Street Song", enjoyed renewed popularity. The film won an Oscar for sound recording and received an Oscar nomination for Best Picture.
MacDonald followed Eddy to Universal, where they were scheduled to make one film together after he finished Phantom of the Opera (1943). MacDonald marked time by appearing as herself in Follow the Boys (1944), an all-star extravaganza about Hollywood stars entertaining the troops. After MacDonald and Eddy left MGM in 1942, they appeared frequently on radio together while planning several unrealized films that would have reunited them onscreen. MacDonald returned solo to MGM after 5 years off the screen for two films. Three Daring Daughters (1948), and The Sun Comes Up (1949), teamed MacDonald with Lassie, this proved to be her final. Offers continued to come in but things never moved beyond the discussion stages partly because of MacDonald's failing health.
MacDonald suffered in her later years with heart trouble. She worsened in 1963 and underwent an arterial transplant at Methodist Hospital in Houston, Texas. Nelson Eddy, in Australia on a nightclub tour, pleaded illness and returned to the States at word of MacDonald's surgery. After the operation she developed pleurisy and was hospitalized for two-and-a-half months. Her friends kept the news from the press until just before her release. MacDonald was again stricken in 1964. On Christmas Eve she was operated on for abdominal adhesions. She was able to go home for New Year's, but in mid-January flew her back to Houston. It was hoped that pioneer heart surgeon Dr. Michael DeBakey, who had recently operated successfully on the Duke of Windsor, could perform the same miracle for her. She checked in on January 12, and a program of intravenous feedings was begun to build her up for possible surgery. MacDonald died two days later on January 14, 1965. MacDonald is interred at Forest Lawn Memorial Park in Glendale, California.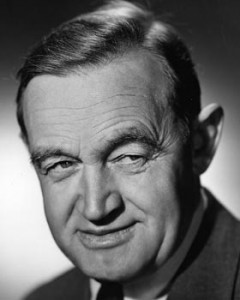 On January 14, 1961, actor Barry Fitzgerald died. He was one of the all-time great character actors in Hollywood history was born William Joseph Shields on March 10, 1888 in Dublin, Ireland. The diminutive Irishman with the irresistible brogue did not start acting until late in life (age forty). Fitzgerald quit his job as a civil servant in Dublin to perform on the London stage with the Abbey Players. In 1930, he made his Hollywood film debut in Alfred Hitchcock's, Juno and the Paycock but did not appear in another film for six years, when in 1936, he was coaxed by director John Ford into appearing in The Plough and the Stars. After which his big screen career took off and from 1930 to 1959, Fitzgerald appeared in over forty motion pictures, some of which include: Bringing Up Baby (1938), The Dawn Patrol (1938), How Green Was My Valley (1941), Two Years Before the Mast (1946), The Naked City (1948), Union Station (1950), and The Quiet Man (1952). In his many film roles, Fitzgerald usually played the archetypical Irishman or the affable clergyman and with his scene stealing grin was an audience favorite.
Tragedy struck on March 17, 1944, when the veteran actor hit two pedestrians, (killing one and severally injuring another) while driving his car on Hollywood Boulevard, near Sycamore Street. There was no evidence of drug or alcohol use and it appeared to be just a tragic accident but an overzealous Los Angeles District Attorney's office still filed a complaint, charging Fitzgerald with vehicular manslaughter. The actor was arrested, booked and a trial date was set for January 9, 1945. At this hearing, Superior Court Judge William McKay dismissed the charges against Fitzgerald for lack of evidence.
Two short months later on March 15, 1945 at the annual Academy Awards ceremony, Fitzgerald was on top of the world when he became the first actor to be nominated for a best lead and supporting actor award for the same movie, Going My Way (1944). He lost the lead actor Oscar to his co-star Bing Crosby but took home the best supporting actor statuette. The following year the Academy board of directors changed the rules, not allowing an actor or actress to be nominated for the same role in two different acting categories in the same movie.
In October of 1959, Fitzgerald underwent a brain operation for an undisclosed illness; this left him incapacitated and unable to care for himself. The last two years of his life were spent in a Dublin area nursing home and he died on January 14, 1961 at Dublin's St. Patrick's Hospital from a heart attack at age seventy-two. His funeral was held in Dublin at St. Patrick's Protestant Church of Ireland; in attendance were numerous personalities of the stage and government. He is buried at Deansgrange Cemetery in Dublin, Ireland and his tombstone epitaph is inscribed with his given name of William J. Shields.
.