2011
12.25
Who was born on this date:
Actor Humphrey Bogart was born on December 25, 1899 in New York City. The American Film Institute has ranked Bogart as the greatest male star in the history of American cinema. Bogart began acting in 1921 and became a regular in Broadway productions in the 1920s and 1930s. His first foray into movies was in The Petrified Forest (1936), and this led to a period of typecasting as a gangster with films such as Angels with Dirty Faces (1938) and others.
His breakthrough as a leading man came in 1941 with High Sierra and the Maltese Falcon. The next year, his performance in Casablanca raised him to the peak of his profession and, at the same time, cemented his trademark film persona, that of the hard-boiled cynic who ultimately shows his noble side. Other successes followed, including To Have and Have Not (1944); The Big Sleep (1946); Dark Passage (1947) and Key Largo (1948), with his wife (Lauren Baccall) in The Treasure of the Sierra Madre (1948); In a Lonely Place (1950); The African Queen (1951), for which he won his only Academy Award; Sabrina (1954); and The Caine Mutiny (1954). His last movie was The Harder They Fall (1956). During a film career of almost thirty years, he appeared in 75 feature films.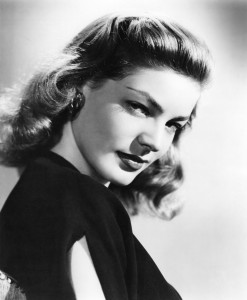 Bogart met Lauren Bacall while filming To Have and Have Not in 1944. When they met, Bacall was nineteen and Bogart was forty-five. He nicknamed her "Baby." Their physical and emotional rapport was very strong from the start, and the age difference and different acting experience also created the additional dimension of a mentor-student relationship. Quite contrary to the Hollywood norm, it was his first affair with a leading lady. Bogart was still miserably married and his early meetings with Bacall were discreet and brief, their separations bridged by ardent love letters. Yet Bogart was still torn between his new love and his sense of duty to his marriage. Divorce proceedings were initiated by February 1945. Bogart and Bacall then married in a small ceremony at the country home of Bogart's close friend near Lucas, Ohio.
By the mid-1950s, Bogart's health was failing. A heavy smoker and drinker, he contracted cancer of the esophagus but almost never spoke of his failing health and refused to see a doctor until January 1956. A diagnosis was made several weeks later and by then it was too late to halt the disease. Bogart had just turned 57 when he died on January 14, 1957 after falling into a coma at his home. His cremated remains are interred in Forest Lawn Glendale and buried with him is a small gold whistle, which he had given to Lauren Bacall, before they married. In reference to their first movie together, it was inscribed: "If you want anything, just whistle."
.