2011
12.12
Who was born on this date: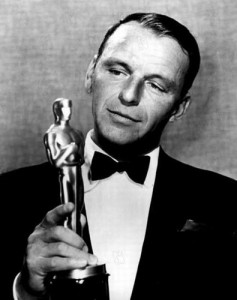 Singer/ actor Francis Albert "Frank" Sinatra was born on Hoboken, New Jersey. He began his musical career in the swing era with Harry James and Tommy Dorsey. Sinatra became an unprecedentedly successful solo artist in the early to mid-1940s. His professional career had stalled by the 1950s, but it was reborn in 1954 after he won the Academy Award for Best Supporting Actor in From Here to Eternity. He followed that with a nomination for Best Actor for The Man with the Golden Arm, and critical acclaim for his performance in The Manchurian Candidate. He also starred in such musicals as High Society, Pal Joey, Guys and Dolls and On the Town. He was married four times, most notably to actresses Ava Gardner (1951–1957) and Mia Farrow (1966–1968). Throughout his life, Sinatra had mood swings and bouts of depression. Sinatra garnered considerable attention due to his alleged personal and professional links with organized crime. Sinatra began to show signs of dementia in his last years and after a heart attack in February 1997, he made no further public appearances. After suffering another heart attack, he died on May 14, 1998 at Cedars-Sinai Medical Center and was buried at Desert Memorial Park in Cathedral City, California.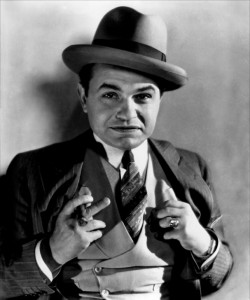 Actor Edward G. Robinson was born on December 12, 1893 in Bucharest. He began his acting career in 1913 and made his Broadway debut in 1915. He made his film debut in a minor and uncredited role in 1916. Robinson was popular in the 1930s and 1940s and was able to avoid many flops during a 50-year career that included 101 films. An acclaimed performance as the gangster Caesar Enrico "Rico" Bandello in Little (1931) led to him being typecast as a "tough guy" for much of his early career in works such as Five Star Final (1931), Smart Money (1931), Tiger Shark (1932), Kid Galahad (1937), Larceny Inc. (1942), Double Indemnity (1944), The Woman in the Window (1945), Scarlet Street (1945) and The Stranger (1946). As a memorable tribute to his past gangster roles, he appeared as 'Johnny Rocco' in Key Largo (1948). He also appeared in numerous 'B' movies such as Vice Squad (1953), Tank Battalion (1958).Director Cecil B. DeMille cast him as Dathan in The Ten Commandments in 1956. Robinson's acting career was later bolstered by notable roles in 1959's A Hole in the Head and the Cincinnati Kid (1965). Robinson's last film was Soylent Green (1973). Edward G. Robinson died from cancer on January 26, 1973 and was buried at Beth-El Cemetery in Queens, New York.
Who died on this date: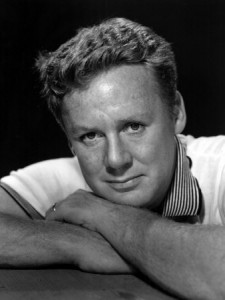 On December 12, 2008, actor Van Johnson died. He was born on August 25, 1916 in Newport, Rhode Island. Johnson was the embodiment of the "boy next door," playing "the red-haired, freckle-faced soldier, sailor or bomber pilot who used to live down the street" in MGM movies during the war years. At the time of his death on December 2008, he was one of the last surviving matinee idols of Hollywood's "golden age." Johnson performed at social clubs in Newport while in high school and moved to New York City after graduating from high school in 1935 to join an off-Broadway revue. He was an understudy to Gene Kelly in the Broadway musical Pal Joey. He was introduced to an MGM casting director by Lucille Ball. This led to a screen test at Columbia Pictures and then Warner Bros. Studios. His all-American good looks and easy demeanor were ill-suited to the gritty movies Warner made at the time, and the studio dropped him at the expiration of his six-month contract. Shortly before leaving Warner, he was cast as a cub reporter opposite Faye Emerson in the 1942 film Murder in the Big House.
His big break was in A Guy Named Joe (1943) with Spencer Tracy and Irene Dunne. Midway through the movie's production, he was involved in a car crash that left him with a metal plate in his forehead and a number of scars on his face that the plastic surgery of the time could not completely correct or conceal; he used heavy makeup to hide them for years. Dunne and Tracy insisted that Johnson not be removed from the cast despite his long absence. With many actors now serving in the armed forces, the accident proved to be a major career break for Johnson. MGM built up his image as the all-American boy in war dramas and musicals, with his most notable starring roles including Thirty Seconds Over Tokyo (1944), Two Girls and a Sailor (1944), Easy to Wed (1946), In the Good Old Summertime (1949), Battleground (1949), Go For Broke (1951), Remains to Be Seen (1953), and Brigadoon (1954). Johnson was dropped by MGM in 1954, after appearing in The Last Time I Saw Paris with Elizabeth Taylor. He enjoyed critical acclaim for his performance in The Caine Mutiny (1954).
During the 1950s, Johnson continued to appear in films and also appeared frequently in television guest appearances. In the 1970s, after twice fighting bouts of cancer, Johnson began a second career in summer stock and dinner theater. In 1985, returning to Broadway for the first time since Pal Joey, he was cast in the starring role of the musical La cage aux Folles. Van Johnson lived in a penthouse on Manhattan's Upper Eastside until 2002, when he moved to an assisted living facility in Nyack, New York. He died there of natural causes on December 12, 2008. He had been ill for the previous year and receiving hospice care. His body was cremated and final disposition is unknown.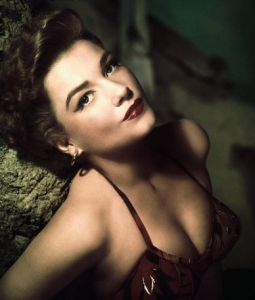 On December 12, 1985, actress Anne Baxter died. The multi-talented Academy Award winning actress was born on May 7, 1923 in Michigan City, Indiana but grew up in Bronxville, New York. In 1936, at the age of thirteen, Baxter made her Broadway theater debut in Seen but not Heard, garnering rave reviews but she yearned for Hollywood's bright lights. An initial foray into film in 1937 was unsuccessful and Baxter returned to Broadway. Then in 1940, at age seventeen, she was given another chance and was given a screen test at 20th Century Fox Studios, and was offered a seven year movie contract. Before she could make a movie for Fox, she was loaned out to MGM where she appeared in 20 Mule Team (1940). Her early film career was filled great success and roles that other actresses would have had to work for years to attain. She was an actress who relied on her charm rather than great beauty and would star in over fifty motion pictures and numerous television series from 1940 to 1985, her film credits include: The Pied Piper (1942), The North Star (1943), Angel on My Shoulder (1946), The Walls of Jericho (1948), Follow the Sun (1951), and Cimarron (1960). She won the best supporting actress Oscar in 1947 for The Razor's Edge (1946) and was nominated in 1951 for All About Eve (1950). Perhaps her most famous role is that of the beautiful and conniving Queen Nefretiri in Cecile B. DeMille's The Ten Commandments (1956).
In 1960, tiring of the bright lights and glamour of Hollywood, she retired from film and settled with her second husband Randolph Galt on a cattle ranch in Australia. In 1970, after a decade away from show business, she yearned to return to the screen saying, "Acting is not what I do. It's what I am. It is my permanent, built in cathedral." She then became a staple of television appearing in numerous programs such as East of Eden (1981) and Hotel (1983). Her last appearance was in the made for television movie, The Masks of Death (1984). On December 8, 1985, while walking along Madison Avenue in Manhattan, she collapsed from a stroke. Baxter was rushed to Lenox Hill Hospital, where she lay in a coma for eight days. She died on December 12, 1985, never regaining consciousness. Anne Baxter's cremated remains are interred at the Lloyd-Jones Cemetery next to the historic Unity Chapel in Spring Green, Wisconsin. Her ashes rest under a small tree memorial which is marked by a non-descript marker. It is near the now empty gravesite of her famous grandfather (Frank Lloyd Wright's remains were disinterred and moved to Scottsdale, Arizona in the mid-1980's). The cemetery is situated in the valley not far from Wright's historic Taliesin estate.
.