2015
08.17
This week (August 17-23) in crime history – Old West outlaw Billy the Kid killed his first victim (August 17, 1877); Seattle Juvenile Judge Gary Little committed suicide after being implicated in a sex scandal (August 18, 1988); The West Memphis Three were released from prison (August 19, 2011); The Menendez Brothers murdered their parents (August 20, 1989); Leon Trotsky was assassinated (August 20, 1940); Leonardo da Vinci's "Mona Lisa" was stolen from the Louvre (August 21, 1911); The Barker gang killed a Federal Reserve agent in Chicago (August 22, 1933); Irish revolutionary Michael Collins was assassinated (August 22, 1922); Austrian teenager Natascha Kampusch escaped her kidnappers (August 23, 2006)
Highlighted Crime Story of the Week –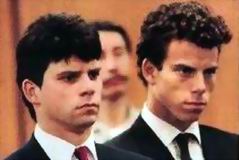 On August 20, 1989, Lyle and Erik Menendez shot their parents, Jose and Kitty, to death in the den of the family's Beverly Hills, California, home. They then drove up to Mulholland Drive, where they dumped their shotguns before continuing to a local movie theater to buy tickets as an alibi. When the pair returned home, Lyle called 911. The Menendez murders became a national sensation when the new television network, Court TV, broadcast the trial in 1993.
Although the Menendez brothers were not immediately suspected, Erik couldn't take the guilt and confessed his involvement to his psychotherapist, Dr. L. Jerome Oziel. Ignoring his own ethical responsibilities, Dr. Oziel taped the sessions with his new patient in an apparent attempt to impress his mistress but the woman ended up going to the police with her information and, in March 1990, Lyle, 22, and Erik, 19, were arrested.
For the next three years, a legal battle was fought over the admissibility of Dr. Oziel's tapes. Finally, the California Supreme Court ruled that the tapes could be played. When the trial began in the summer of 1993, the Menendez brothers put on a spirited defense. In compelling testimony lasting over a month, they emotionally described years of sexual abuse by Jose and Kitty Menendez. They insisted that they had shot their parents in self-defense because they believed that Jose would kill them rather than have the abuse be exposed.
The first two juries (one for each brother) deadlocked, and a mistrial was declared. At the retrial, which began in October 1995, the judge was much more restrictive in allowing the defense attorneys to focus on the alleged sexual abuse. In March 1996, both Lyle and Erik were convicted and sentenced to life in prison.
Check back every Monday for a new installment of "This Week in Crime History."
Michael Thomas Barry is a columnist for www.crimemagazine.com and is the author of six nonfiction books that includes the award winning Murder and Mayhem 52 Crimes that Shocked Early California 1849-1949.