2015
07.06
This week (July 6-12) in crime history – July 6, 1946 – Former mob boss George "Bugs" Moran was arrested in Kentucky; July 7, 1865 – Mary Surratt and three others were executed for Abraham Lincoln's assassination; July 8, 1898 – Soapy Smith, notorious conman was murdered; July 8, 1960 – U-2 pilot Francis Gary Powers was charged with espionage; July 10, 1925 – The Scopes Monkey Trial began; July 10, 1992 – Joseph Hazelwood's conviction in the Exxon Valdez oil spill was overturned; July 11, 1804 – Aaron Burr killed Alexander Hamilton in a duel; July 11, 2010 – Colton Harris-Moore, The Barefoot bandit was captured in the Bahamas; July 12, 1891 – Wild Bill Hickok had his first gun fight; July 12, 1963 – The Moors Murders began
Highlighted Crime Story of the Week –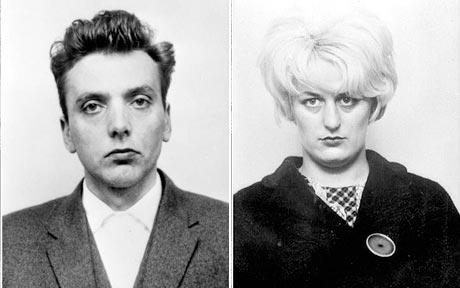 On July 12, 1963, 16-year-old Pauline Reade was abducted while walking near her home in Gorton, England, by Ian Brady and Myra Hindley, the so-called "Moors Murderers," launching a crime spree that would last for over two years. Reade's body was not discovered until 1987, after Brady confessed to the murder during an interview with reporters while in a mental hospital. The teenager had been sexually assaulted and her throat had been slashed.
Brady and Hindley met in Manchester in 1961. The shy girl quickly became infatuated with Brady, a self-styled Nazi, who had an obsession with sadistic sex. In order to satisfy their sadistic impulses, Brady and Hindley began abducting and killing young men and women. After Pauline Reade, they kidnapped 12-year-old John Kilbride in November and Keith Bennett, also 12, in June the next year. The day after Christmas in 1964, Leslie Ann Downey, a 10-year-old from Manchester, was abducted.
In 1965, the couple murdered a 17-year-old boy with a hatchet in front of Hindley's brother-in-law, David Smith, perhaps in an attempt to recruit him for future murders. This apparently crossed the line for Smith, who then went to the police. Inside Brady's apartment, police found luggage tickets that led them to two suitcases in Manchester Central Station. They contained photos of Leslie Ann Downey being tortured along with audiotapes of her pleading for her life. Other photos depicted Hindley and Brady in a desolate area of England known as Saddleworth Moor where police found the body of John Kilbride.
The Moors Murderers were convicted and sentenced to life in prison in 1966. For his part, Brady continued to confess to other murders, but police have been unable to confirm the validity of his confessions. Hindley died on November 15, 2002 from a brain aneurysm and Brady remains incarcerated at the Ashworth Psychiatric Hospital in Maghull, England.
Check back every Monday for a new installment of "This Week in Crime History."
Michael Thomas Barry is a columnist for www.crimemagazine.com and is the author of six award winning nonfiction books that includes Murder and Mayhem 52 Crimes that Shocked Early California, 1848-1949.