2015
05.20
This week (May 20-26) in Hollywood history – Winning starring Paul Newman was released (May 22, 1969); Joan Collins was born (May 23, 1933); Thelma and Louise was released (May 24, 1991); Sex, Lies and Videotape was well received at the Cannes Film Festival (May 24, 1989); Star Wars was released (May 25, 1977); John Wayne was born (May 26, 1907); Sidney Pollack died (May 26, 2008)
Highlighted Story of the Week –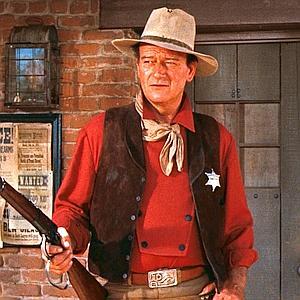 On May 26, 2008, Hollywood legend John Wayne was born in Winterset, Iowa. Born Marion Michael Morrison, Wayne's family moved to Glendale, California, when he was six years old. When he graduated from high school, he hoped to attend the U.S. Naval Academy. However, after the school rejected him, he accepted a full scholarship to play football at the University of Southern California in Los Angeles.
In the summer of 1926, Wayne's football coach found him a job as an assistant prop man on the set of a movie directed by John Ford. Ford started to use Wayne as an extra, and he eventually began to trust him with some larger roles. In 1930, Ford recommended Wayne for Fox's epic Western The Big Trail. Wayne won the part, but the movie did poorly, and Fox let his contract lapse. During the next decade, Wayne worked tirelessly in countless low-budget western films, sharpening his talents and developing a distinct persona for his cowboy characters. Finally, his old mentor John Ford gave Wayne his big break, casting him in the epic 1939 western, Stagecoach. Wayne played the role of Ringo Kid, and he imbued the character with the essential traits that would inform nearly all of his subsequent screen roles: a tough and clear-eyed honesty, unquestioning valor, and a laconic, almost plodding manner.
With the success of Stagecoach, Wayne's movie career took off. Among the dozens of Westerns he appeared in (many of them directed by Ford) were classics such as Tall in the Saddle (1944), Red River (1948), Fort Apache (1948), She Wore a Yellow Ribbon (1949), Rio Bravo (1959), and The Man Who Shot Liberty Valance (1962). In all these films, Wayne embodied the simple, and perhaps simplistic, cowboy values of decency, honesty, and integrity.
Besides Westerns, Wayne also acted in war films. It was a small leap from the valorous cowboy or cavalry soldier to the brave WWII fighters of films like Sands of Iwo Jima (1949) and Flying Leathernecks (1951). Deeply conservative in his politics, Wayne also used his 1968 film, The Green Berets, to express his support of the American government's war in Vietnam. By the late 1960s, some Americans had tired of Wayne and his simplistically masculine and patriotic characters. Increasingly, western movies were rejecting the simple black-and-white moral codes championed by Wayne and replacing them with a more complex and tragic view of the American West. However, Wayne proved more adaptable than many expected. In his Oscar-winning role in True Grit (1969), he began to escape the narrow confines of his own good-guy image. His final film, The Shootist (1976), won over even his most severe critics. Wayne, who was battling lung cancer, played a dying gunfighter whose moral codes and principles no longer fit in a changing world. He died from stomach cancer at the UCLA Medical Center on June 11, 1979 and he was buried at Pacific View Memorial Park in Newport Beach, California.
Michael Thomas Barry is the author of six nonfiction books that includes the award winning Fade to Black Graveside Memories of Hollywood Greats, 1927-1950.