2015
03.23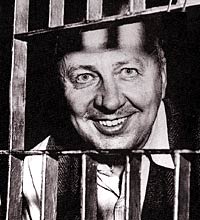 This week (March 23-29) in crime history – Chilean Ambassador to the U.S. Orlando Letelier's assassins were sentenced (March 23, 1979); Mexican Presidential candidate Luis Donaldo Colosio was assassinated (March 23, 1994); The Jonesboro Arkansas School shooting (March 24, 1998); The U.S. Supreme Court ruled on the Scottsboro Case (March 25, 1932); King Faisal of Saudi Arabia was assassinated by his own nephew (March 25, 1975); Torture chamber found at the Philadelphia home of Gary Heidnik (March 26, 1987); Mass suicide of the Heaven's Gate Cult (March 26, 1997); First use of finger print evidence solved murders of Thomas and Ann Farrow in Great Britain (March 27, 1905); Members of the Duke University lacrosse team were suspended following sexual assault allegations (March 28, 2006); The Mad Bomber stick in New York City (March 29, 1951).
Highlighted story of the week –
On March 29, 1951, a bomb explodes at Grand Central Station in New York City, but injures no one. In the next few months, five more bombs were found at landmarks around the city, including the public library. Authorities realized that this new wave of terrorist acts was the work of the Mad Bomber.
New York's first experience with the Mad Bomber was on November 16, 1940, when a pipe bomb was left in the Edison building with a note that read, "Con Edison crooks, this is for you." More explosive devices were found in 1941, each more powerful than the last, until the Mad Bomber sent a note in December stating, "I will make no more bomb units for the duration of the war." He went on to say that Con Edison, New York's electric utility company, would be brought to justice in due time. The Mad Bomber made good on his promise, although he did periodically send threatening notes to the press. After his flurry of activity in 1951, the Mad Bomber was silent until a bomb went off at Radio City Music Hall in 1954. In 1955, he struck Grand Central Station, Macy's, the RCA building and the Staten Island Ferry.
The police were unsuccessful in finding the Mad Bomber, but a private investigative team working for Con Ed finally found him. Looking through their employment records, they found that George Peter Metesky had been a disgruntled ex-employee since an accident in 1931. Metesky was enraged that Con Ed refused to pay disability benefits and resorted to terrorism as his revenge. Metesky, a rather mild-mannered man, was found living with his sisters in Connecticut. He was indicted for 47 counts of attempted murder but was declared legally insane and incompetent to stand trial. He was then committed to the Matteawan State Hospital where he stayed until his release in 1973. Metesky died on May 23, 1994 in Waterbury, Connecticut at the age of 90.
Check back every Monday for a new installment of the "This Week in Crime History."
Michael Thomas Barry is a columnist for www.crimemagazine.com and is the author of six nonfiction books that includes the award winning Murder and Mayhem 52 Crimes that Shocked Early California, 1849-1949.