2015
02.23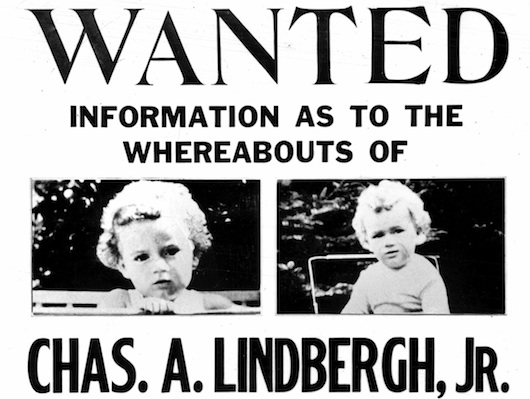 This week (February 23 – March 1) in crime history – Abraham Lincoln avoided assassination attempt (February 23, 1861); Jean Harris was convicted of murdering Dr. Herman Tarnower (February 24, 1981); Actor Robert Mitchum was released from jail after serving sentence for drug possession (February 25, 1949); World Trade Center in New York City was bombed for first time (February 26, 1993); Trayvon Martin was shot and killed (February 26, 2012); Federal agents raided the Branch Davidian compound in Waco (February 28, 1993); Baby Lindbergh kidnapping (March 1, 1932); Salem Witch hunt began (March 1, 1692)
Highlighted Crime Story of the Week –
On March 1, 1932, the young son of famed aviator Charles Lindbergh was kidnapped from the family's home in Hopewell, New Jersey. Anne Lindbergh discovered a ransom note in their child's empty room. The kidnapper had used a ladder to climb up to the open second-floor window and had left muddy footprints in the room. The ransom note written in poor English, demanded $50,000. The crime captured the attention of the entire nation and the Lindbergh family was inundated by offers of assistance and false clues. For three days, investigators found nothing and there was no further word from the kidnappers. Then, a new letter arrived which demanded $70,000.
Dr. Condon, a retired teacher and coach from the Bronx who had volunteered, acted as the go-between. After Condon and Lindbergh delivered the ransom money on April 2, the kidnappers indicated that the child was on a boat off the coast of Massachusetts. However, after an exhaustive search of every port, there was no sign of either the boat or the child. Soon after, a renewed search of the area near the Lindbergh home turned up the baby's body. He had been killed the night of the kidnapping. The heartbroken Lindbergh's eventually donated the home to charity and moved away.
The kidnapping looked like it would go unsolved until September 1934, when a marked bill from the ransom turned up. The gas station attendant who had accepted the bill wrote down the license plate number of the car. It was tracked back to a German immigrant, Bruno Hauptmann. When his home was searched, detectives found $14,000 of Lindbergh ransom money. Hauptmann claimed that a friend had given him the money to hold and that he had no connection to the crime. The resulting trial was a national sensation. The prosecution's case was not particularly strong and the main evidence, apart from the money, was handwriting experts and Hauptmann's connection with the type of wood that was used to make the ladder. Still, the evidence and intense public pressure was enough to convict Hauptmann. In April 1936 he was executed in the electric chair. In the aftermath of the case kidnapping was made a federal offense.
Check back every Monday for a new installment of "This Week in Crime History."
Michael Thomas Barry is a columnist for www.crimemagazine.com and is the author of six nonfiction books that includes the award winning Murder and Mayhem 52 Crimes that Shocked Early California.