2015
01.14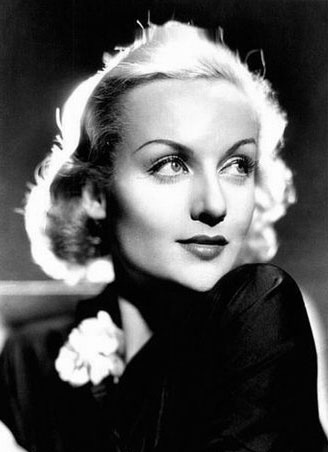 This week (January14-20) in Hollywood History – Marilyn Monroe married Joe DiMaggio (January 14, 1954); Hal Roach was born (January 14, 1892); Ray Bolger died (January 15, 1987); Carole Lombard died in plane crash (January 16, 1942); John Wayne married Esperanza Baur (January 17, 1946); Oliver Hardy was born (January 18, 1892); Cary Grant was born (January 18, 1904); Danny Kaye was born (January 18, 1913); Hedy Lamarr died (January 19, 2000); Audrey Hepburn died (January 20, 1993); Sharon Tate married Roman Polanski (January 20, 1968).
Highlighted Story of the Week –
On January 16, 1942, actress Carole Lombard and wife of Clark Gable was killed in a plane crash. Gable and Lombard met in 1932 during the filming of No Man of Her Own. He was just starting out on his trajectory as one of Hollywood's top leading men and she was a talented comedic actress trying to prove herself in more serious roles. Both were married at the time, Gable to a wealthy Texas widow 10 years his senior and Lombard to actor William Powell and neither showed much interest in the other. When they met again, three years later, Lombard had divorced Powell and Gable was separated from his wife, and things proceeded quite differently. Much to the media's delight, the new couple was open with their affection. In early 1939, Gable's wife finally granted him a divorce, and he married Lombard that April.
In January 1942, shortly after America's entrance into World War II, Howard Dietz, the publicity director of the MGM film studio, recruited Lombard for a tour to sell war bonds in her home state of Indiana. Gable, who had been asked to serve as the head of the actors' branch of the wartime Hollywood Victory Committee, stayed in Los Angeles, where he was set to begin filming Somewhere I'll Find You with Lana Turner. Dietz advised Lombard to avoid airplane travel, because he feared for its reliability and safety, and she did most of the trip by train, stopping at various locations on the way to Indianapolis and raising some $2 million for the war effort.
On the way home, however, Lombard didn't want to wait for the train, and instead boarded a TWA DC-3 in Las Vegas with her mother, Elizabeth Peters, and a group that included MGM publicity agent Otto Winkler and 15 others. Shortly after takeoff, the plane veered off course. Warning beacons that might have helped guide the pilot had been blacked out because of fears about Japanese bombers, and the plane smashed into a cliff near the top of Potosi Mountain. Search parties were able to retrieve Lombard's body, and she was interred in the Great Mausoleum at Forest Lawn Memorial Park in Glendale, California.
Hysterical with grief and adrift in the empty house he had shared with Lombard, Gable drank heavily and struggled to complete his work on Somewhere I'll Find You. He was comforted by worried friends, including actress Joan Crawford. That August, Gable decided to enlist in the U.S. Army Air Corp. He spent most of the war in the United Kingdom, and flew several combat missions (including one to Germany), earning several decorations for his efforts. He would remarry twice more, but when he died in 1960 Gable was interred at Forest Lawn, next to Lombard.
Check back every Wednesday for a new installment of "This Week in Hollywood History."
Michael Thomas Barry is the author of six nonfiction books that includes Fade to Black Graveside Memories of Hollywood Greats, 1927-1950.