2015
01.09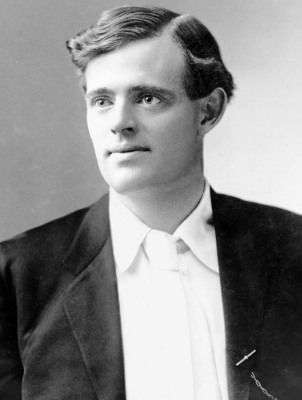 This week (January 9-15) in English literary history – Virginia Woolf bought home in the Bloomsbury section of London (January 9, 1924); Robert Browning and Elizabeth Barrett began corresponding (January 10, 1845); Sinclair Lewis died (January 10, 1951); Edmund Burke was born (January 12, 1729); Jack London was born (January 12, 1876); Agatha Christie died (January 12, 1976); James Joyce died (January 13, 1941); Jonathan Swift was ordained a priest (January 13, 1695); Edmund Spenser died (January 13, 1599); John Steinbeck married Carol Henning (January 14, 1930); Lewis Carroll died (January 14, 1898); Margery Fleming died (January 15, 1803).
Highlighted Story of the Week – 
On January 12, 1876, Jack London, the illegitimate son of astrologer William Chaney and Flora Wellman was born in San Francisco. His father abandoned the family, and Jack, whose last name at birth was Chaney, later assumed his stepfather's surname, London. From an early age, London struggled to make a living, working in a cannery and as a sailor, oyster pirate, and fish patroller. He also spent time as a hobo, riding trains. During the national economic crisis of 1893, he joined a march of unemployed workers and later spent a month in jail for vagrancy. After his prison term, the 17-year-old London resolved to further his education. He completed an entire high school equivalency course in one year and enrolled at the University of California at Berkeley, where he read voraciously for a year. He dropped out to join the 1897 gold rush in the Alaskan Klondike.
While in Alaska, London began writing stories about the region. In 1900, his first collection of stories, The Son of the Wolf, was published. Three years later, his story The Call of the Wild made him famous around the country. London continued to write stories of adventure amid the harsh natural elements. During his 17-year career, he wrote 50 fiction and nonfiction books. He settled in Northern California about 1911, having already written most of his best work. London, a heavy drinker, died on November 22, 1916 at his home from an apparent over dose of morphine. Whether this was intentional or not has been debated by scholars for years. His ashes were interred at his home now known as the Jack London State Historic Park in Glen Ellen, California.
Check back every Friday for a new installment of "This Week in English Literary History."
Michael Thomas Barry is the author of six nonfiction books that includes the award winning Literary Legends of the British Isles and the soon to be released America's Literary Legends.