2014
12.22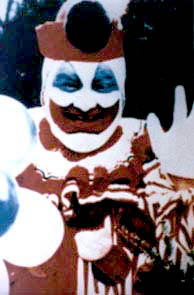 This week (December 22-28) in crime history – Serial killer John Wayne Gacy confessed to killing over two dozen men and young boys (December 22, 1978); Bernie Goetz shot four black men in the New York Subway (December 22, 1984); French officer Alfred Dreyfus was convicted of treason (December 22, 1894); Japanese Premier Hideki Tojo and other war criminals were executed (December 23, 1948); Terrorists hijacked Air France flight 8969 in Algiers (December 24, 1994); JonBenet Ramsey was murdered (December 25, 1996); Countess Bathory's torturous activities were discovered in Hungry (December 26, 1610): Former Pakistani Prime Minister Benazir Bhutto was assassinated (December 27, 2007); Thomas Paine was arrested for treason on France (December 28, 1793).
Highlighted Crime Story of the Week –
On December 22, 1978, John Wayne Gacy confessed to police to killing over two dozen boys and young men and burying their bodies under his suburban Chicago home. Two years later, Gacy was convicted of 33 sex-related murders, which had been committed between 1972 and 1978, and given the death penalty. At the time, he was the worst serial killer in modern American history.
Outwardly, Gacy appeared to have a relatively normal middle-class upbringing; however, by some accounts, he had an abusive alcoholic father and also experienced health issues in his youth. In 1964, he married and moved with his wife to Iowa, where he managed his father-in-law's Kentucky Fried Chicken restaurants. The couple had two children. However, Gacy's wife divorced him after he was charged with sexually assaulting one of his male employees in 1968. He was sentenced to 10 years in prison, but was released due to good behavior after serving only a fraction of his sentence.
Gacy moved back to Chicago, where he started a contracting company and remarried. However, the seemingly respectable businessman, who became involved in local politics and once had his photograph taken with then-first lady Rosalynn Carter, was leading a double life as a sexual predator. He committed his first known murder in 1972. Gacy's victims included male prostitutes as well as teenagers who worked for his company. Typically, he lured his victims back to his home and tricked them into being handcuffed or having a rope tied around their necks. Afterward, he'd knock them out with chloroform and then rape, torture and murder them. As he was a well-known community figure, who sometimes dressed up as a clown to entertain sick children, his crimes initially went undetected.
The heavy-set serial killer came under suspicion in December 1978 when authorities investigating the disappearance of teenager Robert Piest discovered that the boy was last seen with Gacy. After learning of Gacy's sex-crime conviction in Iowa, police searched his Norwood Park home. They noticed a strong odor coming from a crawl space but at first thought it was from a damaged sewage pipe. Several items, including a store receipt, were later found at Gacy's home that linked him to Piest and other young men who had been reported missing. After Gacy confessed, investigators recovered 29 corpses buried on his property, as well as four more that he'd dumped in nearby rivers when he ran out of room at home.
After his conviction, Gacy spent 14 years on Death Row, during which time he drew paintings of clowns and other figures that sold for thousands of dollars. On May 10, 1994, having exhausted all his appeals, the 52-year-old Gacy, who the media dubbed the Killer Clown, was put to death by legal injection at Stateville Penitentiary in Joliet, Illinois.
Check back every Monday for a new installment of "This Week in Crime History."
Michael Thomas Barry is a columnist for www.crimemagazine.com and is the author of six nonfiction books that include the award winning Murder & Mayhem 52 Crimes that Shocked Early California, 1849-1949.