2014
12.10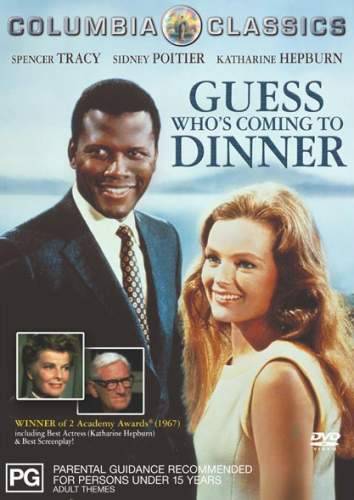 This week (December 10-16) in Hollywood history – Victor McLaglen was born (December 10, 1886); Douglas Fairbanks Sr. died (December 12, 1939); Guess Who's Coming to Dinner opened in theaters (December 12, 1967); Frank Sinatra was born (December 12, 1915); Anne Baxter died (December 12, 1985); Dick Van Dyke was born (December 13, 1925); Christopher Plummer was born (December 13, 1929); Myrna Loy died (December 14, 1993); Walt Disney died (December 15, 1966); Charlie Chaplin began his movie career (December 16, 1913).
Highlighted Story of the Week –
On December 12, 1967, Guess Who's Coming to Dinner, starring Katharine Hepburn, Spencer Tracy, Sidney Poitier and Katharine Houghton, opened in theaters. The film followed the story of a young white woman (Houghton) who brings her fiancé (Poitier), an African-American doctor, home to meet her parents, played by Hepburn and Tracy in their last film together. Off-screen, the couple had a long romance, although Tracy was married to another woman. He died on June 10, 1967, a short time after the movie wrapped. Directed by Stanley Kramer, who was known for other films such as Inherit the Wind and Judgment at Nuremberg; Guess Who's Coming to Dinner examined the reactions of the young couple's various family members and friends to their taboo relationship. The film was nominated for 10 Academy Awards, including Best Picture, and collected two Oscars, including Best Actress for Hepburn, the second of her career.
Hepburn (1907-2003) won four Academy Awards (out of 12 total nominations) over the course of her long career. The legendary screen star followed her Oscar win for Guess Who's Coming to Dinner with Best Actress wins for The Lion in Winter (1968) and On Golden Pond (1981). Her final feature film was 1994's Love Affair, with Warren Beatty and Annette Bening.
Sidney Poitier, earned a Best Actor Oscar nomination for 1958's The Defiant Ones, directed by Stanley Kramer and co-starring Tony Curtis and Theodore Bikel. For his performance as a handyman who builds a chapel for a group of German nuns in 1963's Lilies of the Field, he became the first black man ever to win an Academy Award for Best Actor. Among Poitier's other well-known films are To Sir, With Love (1967) and In the Heat of the Night (1967).
Spencer Tracy (1900-1967) took home his first Best Actor Oscar for 1937's Captains Courageous, having been previously nominated in the category for 1936's San Francisco. He won again for 1938's Boys Town and went on to earn five other nominations. Tracy received his ninth and final Best Actor Oscar nomination for Guess Who's Coming to Dinner.
Check back every Wednesday for a new installment of "This Week in Hollywood History."
Michael Thomas Barry is the author of six nonfiction book that include the award winning Fade to Black: Graveside Memories of Hollywood Greats, 1927-1950.