2014
10.31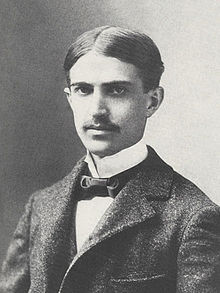 This week (October 31- November 6) in English literary history – Sir Arthur Conan Doyle's The Adventures of Sherlock Holmes was published (October 31, 1892); Stephen Crane was born (November 1, 1871); Penguin Books was acquitted of obscenity charges over D.H. Lawrence's Lady Chatterley's Lover (November 2, 1960); William Makepeace Thackeray's The Luck of Barry Lyndon was published in Fraser's Magazine (November 3, 1844); T.S. Eliot was awarded the Nobel Prize in literature (November 4, 1948); Willa Cather began writing for the Nebraska State Journal (November 5, 1893); English Playwright Thomas Kyd was baptized (November 6, 1558).
Highlighted Story of the Week –
On November 1, 1871, Stephen Crane, author of The Red Badge of Courage, was born Newark, New Jersey. His father died when Crane was 9, and the family later settled in Asbury Park, New Jersey. At Syracuse University, Crane played baseball for a year before dropping out to become a journalist in New York City. He worked briefly for several newspapers and scraped by in near poverty. While struggling to make a living, Crane closely observed the characters around him. In 1893, at age 23, he published Maggie: A Girl of the Streets, about a poor girl's decline into prostitution and suicide. Finding a publisher was difficult given the book's scandalous content, so Crane ultimately published it himself. The book was a critical success but failed to sell well. He turned his attention to more popular topics and wrote The Red Badge of Courage (1895). The book was serialized by a newspaper syndicate, and Crane became an international celebrity at age 24.
After the novel's success, the newspaper syndicate sent Crane to cover the West and Mexico. In 1897, he went to Cuba to write about the insurrection against Spain. On the way there, he stayed at a dingy hotel where he met Cora Howard Taylor, who became his lifelong companion. In 1897, his boat to Cuba sank, and he barely survived. His short story "The Open Boat" is based on his experiences in a lifeboat with the captain and cook. Crane later covered the war between Greece and Turkey, and settled in England, where he made friends with other literary greats such as Joseph Conrad, H.G. Wells, and Henry James.
Crane had been in poor health for many years and had contracted tuberculosis in his late 20s. Cora Howard Taylor nursed him while he wrote furiously in an attempt to pay off his debts. He exhausted himself and exacerbated his condition. In late May 1900, he and Cora traveled to a health spa in the Black Forest near Badenweiler, Germany where he died on June 5, at the age of 28. His body was returned to the U.S. for burial at Evergreen Cemetery in Newark, New Jersey.
Check back every Friday for a new installment of This Week in English Literary History
Michael Thomas Barry is the author of numerous books that include the gold medal winning Literary Legends of the British Isles: The Lives and Burial Places of 50 Great Writers (2013) and America's Literary Legends: The Lives and Burial Places of 50 Great Writers (2015).