2014
03.19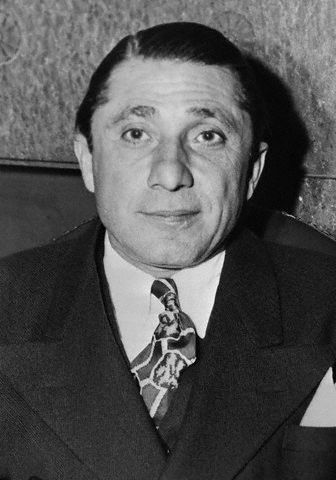 On March 19, 1943, mobster Frank "The Enforcer" Nitti, one of Al Capone's henchmen and later front man for the Chicago Outfit, committed suicide after being indicted for extorting money from Hollywood producers. Born on January 27, 1886 in Italy, Nitti came to the United States in 1893, at the age of 7. His family settled in Brooklyn, but Frank moved to Chicago by 1920. Using his barbershop as a meeting place for small-time hoods, Nitti started fencing stolen jewelry, attracting the attention of big-time mobster Johnny Torrio and one of his strongmen, Al Capone. Nitti joined Al Capone's criminal empire, called the Chicago Outfit. Rising quickly in the organization, he displayed a talent for business, becoming known for efficiently smuggling Canadian whiskey into Chicago speakeasies, which served as distribution points throughout the city. By the mid-1920s, Nitti was a high ranking member of the Capone mob. Although his nickname was "The Enforcer," Frank Nitti rarely took part in violent activities, delegating them instead to underlings. In 1931, he and Capone were convicted of tax evasion and sent to prison, but Nitti received an 18-month sentence, while Capone received 11 years. Severely claustrophobic, Nitti served his time in extreme discomfort, an experience that would mark him until the day he died.
When Nitti was released in 1932, the media dubbed him the new boss of Capone's gang, although it has since been revealed that Nitti was the face, and perhaps brains of the Chicago Outfit, while another man, Paul Ricca, was its true leader. Aiming to take down the Outfit's presumed head, in December 1932, Chicago policemen raided Nitti's office, shooting him in the back and neck. Nitti survived, and during the trial it was revealed that one of the officers had been paid $15,000 to kill Nitti. Needing to reinvent the Outfit after the end of Prohibition, Nitti turned the Outfit's attention to the labor unions and, even more, Hollywood. But in 1943, Nitti and many top members of the Chicago Outfit were indicted for extorting money from some of the largest movie studios in Hollywood, including MGM, Paramount, and 20th Century Fox, and they faced stiff sentences if convicted. Because of his claustrophobia, enhanced during his first prison term, Nitti feared the idea of a long confinement. So, faced with life in prison or perhaps murder by fellow Outfit members to keep him quiet, Nitti shot himself in the head on March 19, 1943, in a train yard, near his home in Riverside, Illinois.
Michael Thomas Barry is the author of numerous books that include the award winning, Murder and Mayhem 52 Crimes that Shocked Early California, 1849-1949 (2012, Schiffer Publishing). The WINNER of the 2012 International Book Awards and a FINALIST in the 2012 Indie Excellence Book Awards for True Crime.