2013
10.04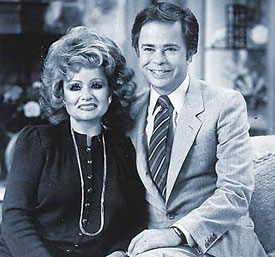 On October 4, 1988, televangelist Jim Bakker was indicted on federal charges of mail and wire fraud and of conspiring to defraud the public. The case against the founder of Praise the Lord (PTL) Ministries and three of his aides exploded in the media when it was revealed that Bakker had sex with former church secretary Jessica Hahn.
On December 6, 1980, Bakker and Hahn had a sexual encounter in a Florida hotel room. Although they each told different stories of what had happened, Bakker eventually paid Hahn over $350,000 to remain silent. When the arrangement became public, the scandal helped to bring down the entire PTL ministry. Hahn, who claimed that she didn't want to be in the spotlight, became an overnight celebrity. Bakker and his wife, Tammy Faye, were enormously successful at raising money for their televised religious programs, and after its 1974 debut, their cable show became the highest rated religious show in the country. The Bakkers then added talk-show elements to standard preaching, often featuring celebrities, music, and comedy. With all of the money they made from their programming, they built a 2,200-acre resort, Heritage USA. When the sex scandal was leaked, other televangelists were outraged. Jimmy Swaggart, in particular, went out of his way to condemn Bakker. Tammy Faye responded to their critics by singing "The Ballad of Jim and Tammy Faye" to the tune of "Harper Valley PTA" on their show. Still, Tammy Faye could not defend the ministry against federal charges that the funding for Heritage USA had been acquired by defrauding their viewers and donors. Although the evidence was not particularly strong, Jim Bakker was convicted in 1989 and sentenced to 45 years in prison. The sentence was later reduced to eight years, and he was released in 1994. Tammy Faye divorced Jim while he was in prison; she died in 2007.
Michael Thomas Barry is a columnist for CrimeMagazine.com and is the author of Murder & Mayhem 52 Crimes that Shocked Early California 1849-1949.