2012
11.05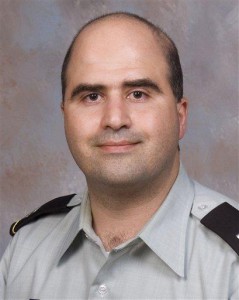 On this date in 2009, army psychiatrist Major Nidal Hasan kills 13 people and wounds 32 in a shooting rampage at Fort Hood. Early in the afternoon of November 5, Major Hasan, armed with two pistols, allegedly shouted "Allahu Akbar" (Arabic for "God is great") and then opened fire at a crowd inside a Fort Hood processing center where soldiers who were about to be deployed overseas or were returning from deployment received medical screenings. The massacre, which left 12 service members and one Department of Defense employee dead, lasted approximately 10 minutes before Hasan was shot by civilian police and taken into custody.
The Virginia-born Hasan, the son of Palestinian immigrants, entered active military duty following his 1995 graduation from Virginia Tech University. In 2003, he completed his psychiatry training at the Uniformed Services University of Health Sciences in Bethesda, Maryland, and went on to work at Walter Reed Medical Center in Washington, D.C., treating soldiers returning from war with post-traumatic stress disorder. In May 2009, he was promoted to the rank of major in the Army, and that July, was transferred to Fort Hood.
The motivation for the massacre remains unclear. At the time of the shootings, Hasan was facing deployment to a combat zone in Afghanistan or Iraq, about which he apparently had voiced reluctance. Several years prior to the attack, Hasan told relatives he wanted to leave the Army, where he believed he was harassed for being a Muslim. In the aftermath of the shootings, reviews by the Pentagon and a U.S. Senate panel found Hasan's superiors had continued to promote him despite the fact that concerns had been raised over his behavior, which suggested he had become a radical and potentially violent Islamic extremist. Among other things, he reportedly publicly defended Osama bin Laden and said America's war on terror was really a war against Islam. Prior to the Fort Hood rampage, government authorities reportedly also learned Hasan had repeated communication with Anwar al-Awlaki, a radical cleric and proponent of violent jihad against America; however, this information about Hasan was apparently not reported to the Army. Hasan, who is paralyzed from the waist down as a result of shots fired at him by police attempting to stop his rampage, remains in a Texas jail awaiting trial.