2012
11.01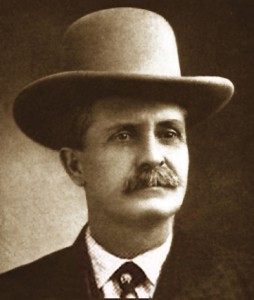 On this date in 1924, legendary lawman, William Tilghman is murdered. Known to both friends and enemies as "Uncle Billy," Tilghman was one of the most honest and effective lawmen of his day. Born in Fort Dodge, Iowa, in 1854, Tilghman moved west when he was only 16 years old. Once there, he flirted with a life of crime after falling in with a crowd of disreputable young men who stole horses from Indians. After several narrow escapes with angry Indians, Tilghman decided that rustling was too dangerous and settled in Dodge City, Kansas, where he briefly served as a deputy marshal before opening a saloon. He was arrested twice for alleged train robbery and rustling, but the charges did not stick. Despite this shaky start, Tilghman gradually built a reputation as an honest and respectable young man in Dodge City. He became the deputy sheriff of Ford County, Kansas, and later, the marshal of Dodge City. Tilghman was one of the first men into the territory when Oklahoma opened to settlement in 1889, and he became a deputy U.S. marshal for the region in 1891.
In the late 19th century, lawlessness still plagued Oklahoma, and Tilghman helped restore order by capturing some of the most notorious bandits of the day. Over the years, Tilghman earned a well-deserved reputation for treating even the worst criminals fairly and protecting the rights of the unjustly accused. Any man in Tilghman's custody knew he was safe from angry vigilante mobs, because Tilghman had little tolerance for those who took the law into their own hands. In 1898, a wild mob lynched two young Indians who were falsely accused of raping and murdering a white woman. Tilghman arrested and secured prison terms for eight of the mob leaders and captured the real rapist-murderer. In 1924, after serving a term as an Oklahoma state legislator, making a movie about his frontier days, and serving as the police chief of Oklahoma City, Tilghman might well have been expected to quietly retire. However, the old lawman was unable to hang up his gun, and he accepted a job as city marshal in Cromwell, Oklahoma.
On November 1, 1924, Tilghman was shot by Wiley Lynn, a corrupt Prohibition Agent. Lynn and Tilghman had had numerous verbal confrontations because Lynn repeatedly released prisoners who were arrested by Tilghman. The incident began on Halloween night, when Tilghman and several other citizens were having coffee at a local café. Shots were heard outside, and Tilghman drew his handgun and went outside. In the street stood a drunken Wiley Lynn, with a gun in his hand. Tilghman tried to disarm Lynn but a scuffle broke and Lynn's gun discharged striking the lawman. Tilghman slumped forward and died. Lynn then fled the scene. Wiley Lynn was eventually acquitted of murder after several witnesses to the shooting, allegedly intimidated, failed to appear. Despite his acquittal, Lynn was dismissed from the Prohibition unit. Years later, in a shootout with another police officer, Lynn was killed.