2012
10.26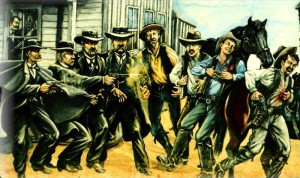 On this date in 1881, the Earp brothers face off against the Clanton-McLaury gang in a legendary shootout at the OK Corral in Tombstone, Arizona. After silver was discovered nearby in 1877, Tombstone quickly grew into one of the richest mining towns in the Southwest. Wyatt Earp, a former Kansas lawman and his brothers, Morgan and Virgil, the town marshal, represented "law and order" in Tombstone, though they also had reputations as being power-hungry and ruthless. The Clanton's and McLaury's were cowboys who lived on a ranch outside of town and sidelined as cattle rustlers, thieves and murderers. In October 1881, the struggle between these two groups for control of Tombstone and Cochise County ended in a blaze of gunfire at the OK Corral. On the morning of October 25, Ike Clanton and Tom McLaury came into Tombstone for supplies. Over the next 24 hours, the two men had several violent run-ins with the Earp's and their friend Doc Holliday. Around 1:30 p.m. on October 26, Ike's brother Billy rode into town to join them, along with Frank McLaury and Billy Claiborne. The first person they met in the local saloon was Holliday, who was delighted to inform them that their brothers had both been pistol-whipped by the Earp's. Frank and Billy immediately left the saloon, vowing revenge.
Around 3 p.m., the Earp's and Holliday spotted the five members of the Clanton-McLaury gang in a vacant lot behind the OK Corral, at the end of Fremont Street. The famous gunfight that ensued lasted all of 30 seconds, and around 30 shots were fired. Though it's still debated who fired the first shot, most reports say that the shootout began when Virgil Earp pulled out his revolver and shot Billy Clanton point-blank in the chest, while Doc Holliday fired a shotgun blast at Tom McLaury's chest. Though Wyatt Earp wounded Frank McLaury with a shot in the stomach, Frank managed to get off a few shots before collapsing, as did Billy Clanton. When the dust cleared, Billy Clanton and the McLaury brothers were dead, and Virgil and Morgan Earp and Doc Holliday were wounded. Ike Clanton and Claiborne had run for the hills. Sheriff John Behan of Cochise County, who witnessed the shootout, charged the Earp's and Holliday with murder. A month later, however, a Tombstone judge found the men not guilty, ruling that they were "fully justified in committing these homicides."
On this date in 1947, Betty Ferreri kills her husband, Jerry, in their Los Angeles, California, home with the help of house caretaker Alan Adron.
When Jerry, a notorious womanizer, brought a young model to the couple's home in the upscale Hancock Park neighborhood, Betty became upset and threatened him with a large wrench. Although Jerry fled, Betty was worried that he would return in a violent state, so she asked for Adron's assistance. When Jerry later returned, he began dragging Betty by her hair. Adron shot him twice, but the gun jammed before he was dead, so Betty finished him off with a meat cleaver, striking him in the head 23 times. Betty and Jerry met in New Jersey in the early 1940s. Although Betty's parents disapproved, she and Jerry, a small-time thief and the son of a well-connected New York politico, eloped and moved to Los Angeles. Jerry rarely worked, but his parents gave them enough money so that they could buy a 15-room house in Hancock Park. But their marriage had more than its share of problems. Beating Betty on a regular basis, Jerry once asked his wife to have sex with an auto mechanic to pay off a bill he owed. When she refused, he ruptured her eardrum. Then, angry about the doctor's bill, he struck her other ear, reportedly saying, "Maybe he'll give you two for the price of one." On another occasion, he brought a puppy home for the couple's young child but then killed the poor animal with a baseball bat in front of the boy. Despite the clear evidence of abuse, prosecutors decided to charge Betty Ferreri and Alan Adron with premeditated murder. At first, the defendants' attorney wanted to claim that Adron was mentally incompetent and unable to stand trial. But Adron refused and hired his own lawyer, who argued that he was only insane at the time of the killing. Due to the salacious details about Jerry's prodigious exploits with other women, the trial became the talk of the town. In 1949, both Betty Ferreri and Alan Adron were acquitted.