2012
08.23
On this date in 1877, Texas Ranger John Armstrong arrests gunslinger John Wesley Hardin in a Florida rail car, returning the outlaw to Texas to stand trial for murder.
Three years earlier, Hardin had killed Deputy Sheriff Charles Webb in a small town near Austin, Texas. Webb's murder was one in a long series of killings committed by the famous outlaw-the 39th by Hardin's own count. Killing a lawman, however, was an especially serious offense. The famous Texas Rangers were determined to bring Hardin to justice. For three years, Hardin was able to elude the Rangers. Moving between Florida and Alabama, he adopted an alias and kept a low profile. Nonetheless, the Rangers eventually unmasked his secret identity and dispatched John Armstrong to track him down in Florida. On this day in 1877, Armstrong, acting on a tip, spotted Hardin in the smoking car of a train stopped at the Pensacola station. Armstrong stationed local deputies at both ends of the car, and the men burst in with guns drawn. Caught by surprise, Hardin nonetheless reacted quickly and reached for the gun holstered under his jacket. The pistol caught in Hardin's fancy suspenders, giving the lawmen the crucial few seconds they needed and probably saving Hardin's life–instead of shooting him, Armstrong clubbed Hardin with his long-barreled .45 pistol. Technically, the Texas Rangers had no authority in Florida, so they spirited Hardin back to Texas on the next train. Tried in Austin, a jury found Hardin guilty of killing Sheriff Webb and sentenced him to life in the Texas state prison at Huntsville. He served 15 years before the governor pardoned him. Released in 1894, an El Paso policeman killed him the following year.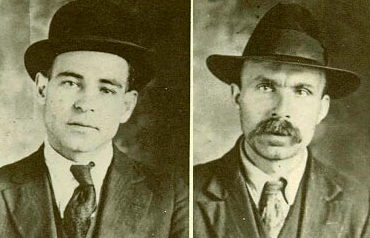 On this date in 1927, anarchists Nicola Sacco and Bartolomeo Vanzetti are executed for murder. On April 15, 1920, a paymaster for a shoe company in South Braintree, Massachusetts, was shot and killed along with his guard. The murderers, who were described as two Italian men, escaped with more than $15,000. After going to a garage to claim a car that police said was connected with the crime, Sacco and Vanzetti were arrested and charged with the crime. Both men carried guns and made false statements upon their arrest, neither had a previous criminal record. On July 14, 1921, they were convicted and sentenced to die. Anti-radical sentiment was running high in America at the time, and the trial of Sacco and Vanzetti was regarded by many as unlawfully sensational. Authorities had failed to come up with any evidence of the stolen money, and much of the other evidence against them was later discredited. During the next few years, sporadic protests were held in Massachusetts and around the world calling for their release, especially after Celestino Madeiros, then under a sentence for murder, confessed in 1925 that he had participated in the crime with the Joe Morelli gang. The state Supreme Court refused to upset the verdict, and Massachusetts Governor Alvan T. Fuller denied the men clemency. In the days leading up to the execution, protests were held in cities around the world, and bombs were set off in New York City and Philadelphia. On August 23, Sacco and Vanzetti were electrocuted. In 1961, a test of Sacco's gun using modern forensic techniques apparently proved it was his gun that killed the guard, though little evidence has been found to substantiate Vanzetti's guilt. In 1977, Massachusetts Governor Michael Dukakis issued a proclamation vindicating Sacco and Vanzetti, stating that they had been treated unjustly and that no stigma should be associated with their names.