2012
06.23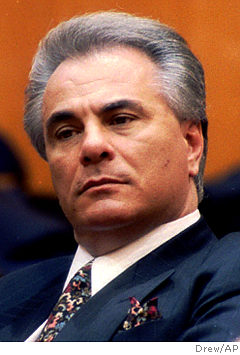 On this date in 1992, mafia boss John Gotti is sentenced to life in prison after being found guilty on 14 accounts of conspiracy to commit murder and racketeering. Moments after his sentence was read in a federal courthouse in Brooklyn, hundreds of Gotti's supporters stormed the building and overturned and smashed cars before being forced back by police reinforcements. Gotti, born and educated on the mean streets of New York City, became head of the powerful Gambino family after boss Paul Castellano was murdered outside a steakhouse in Manhattan in December 1985. The gang assassination, the first in three decades in New York, was organized by Gotti and his colleague Sammy "the Bull" Gravano. The Gambino family was known for its illegal narcotics operations, gambling activities, and car theft. During the next five years, Gotti rapidly expanded his criminal empire, and his family grew into the nation's most powerful Mafia family. Despite wide publicity of his criminal activities, Gotti managed to avoid conviction several times, usually through witness intimidation. In 1990, however, he was indicted for conspiracy to commit murder in the death of Paul Castellano, and Gravano agreed to testify against him in a federal district court in exchange for a reduced prison sentence. On April 2, 1992, John Gotti was found guilty on all counts and on June 23 was sentenced to multiple life terms without the possibility of parole. While still imprisoned, Gotti died of throat cancer on
June 10, 2002.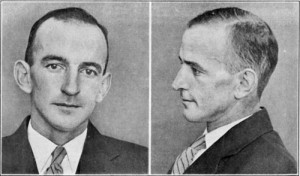 On this date in 1934, William Bayly is convicted of murder in New Zealand despite the fact that the body of one of his alleged victims was never found. Most of the evidence against Bayly consisted of trace amounts of human hair, bone, and tissue, representing a marked advance in the field of forensics. Sam and Christobel Lakey disappeared from their farm in Ruawaro, New Zealand, in October 1933, along with their rifles. Christobel's body soon turned up in a pond on the farm with terrible bruising to her face and head, and investigators then discovered fresh bloodstains in both an old buggy and a barn, leading them to believe that Sam had been shot and transported somewhere else.
One of the first suspects was William Bayly, who owned a farm adjacent to the Lakey's, and who was known to have argued with his neighbors frequently. Years earlier, he had been suspected of killing his cousin, but was released due to insufficient evidence. Suggesting to police that Sam Lakey had probably fled after killing his wife, Bayly soon dropped out of sight himself. Meanwhile, detectives found the missing rifles buried in a swamp on Lakey's property. Following up on a report that there had been thick smoke coming from a shed on Bayly's property on the day that the Lakeys disappeared, investigators found pieces of hair and bones, ash, and shotgun lead in a large oil drum inside the shed. It appeared that Bayly had cremated Sam Lakey's body in this drum. Tests of the hair and bone fragments from the drum in the shed proved that they were human in origin. Baley was convicted and hanged at Mount Eden Jail in July.