2012
05.24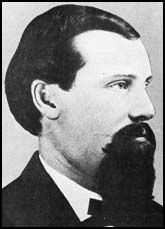 On this date in 1863, the good citizens of Bannack, Montana, elect Henry Plummer as their new sheriff, not realizing he is a hardened outlaw who will use his office to rob and murder them. Born and reared in Maine, Plummer went west in 1852 and settled in the California gold mining town of Nevada City. There he opened a bakery and became active in the Democratic Party. Well-spoken, friendly, and ambitious, Plummer won election to sheriff in 1856 and performed well enough to win re-election the following year. Later in 1857, however, Plummer suffered two setbacks. First, he lost his bid to win a seat on the California legislature. Then he was convicted of second-degree murder for killing an unarmed man in the line of duty. Plummer claimed he had acted in self-defense, but the jury apparently believed witnesses who said the true motive lay in an affair he was having with the murdered man's wife.
Plummer served six months in San Quentin prison before the governor pardoned him. When he returned to Nevada City, he won reappointment as an assistant marshal. In 1861, however, he fatally wounded a man in a whorehouse brawl and fled to avoid prosecution. During the next several years, he wandered through the gold country of Nevada and Idaho. Eventually, he took up with a band of desperados who were robbing and killing miners in Idaho. When a blunt and brave saloonkeeper named Patrick Ford began to voice suspicions about Plummer, the outlaw arranged for him to be killed in a shootout. Misgivings about Plummer continued to grow, however, and he fled once more.
When Plummer arrived in Bannack, Montana, in October 1862, the people of the booming little mining town knew nothing of his record. With the Idaho gold fields beginning to give out, many of Plummer's old partners in crime followed him to Montana. Plummer quickly reorganized his gang and called the motley band "The Innocents." Skillfully maintaining his public role as an honest citizen, Plummer then managed to convince 307 inhabitants of Bannack to elect him sheriff in May of 1863.
Plummer's office of sheriff was the perfect cover for operating an effective and deadly criminal ring. Plummer provided his henchmen with information on the movements of gold shipments and ensured that they avoided capture. During the next six months, road agents ruthlessly terrorized the people of Bannack and the nearby town of Virginia City. To the dismay of the townspeople, Sheriff Plummer seemed unable to stop them. After more than 100 people were robbed or murdered, the settlers organized a vigilance committee of nearly 2,000 members in December 1863.
The Montana vigilantes destroyed Plummer and his gang in a surprisingly short time. Among their first victims was Erastus "Red" Yeager, who revealed Plummer's complicity and the names of the other gang leaders before he was hanged. Early on a bitterly cold Sunday morning, January 10, 1864, the vigilantes arrested Plummer and two of his lieutenants. While his cronies swore and resisted, Plummer reportedly wept and begged to be spared, but to no avail. All three men were hanged at once on a Bannack gallows Sheriff Plummer had prepared for another. The vigilantes rode away, "leaving the corpses," as one contemporary wrote, "stiffening in the icy blast." By spring, all of Plummer's Innocents were either dead or departed.