2012
05.23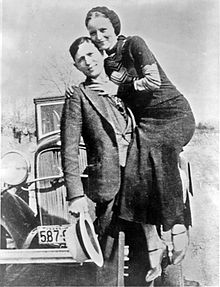 On this date in 1934, famed fugitives Clyde Barrow and Bonnie Parker are killed in a police ambush near Sailes, Louisiana. A contingent of officers from Texas and Louisiana set up along the highway, waiting for Bonnie and Clyde to appear, and then unloaded a two-minute fusillade of 167 bullets at their car, killing the criminal couple. Bonnie Parker was 19 years old when she met Clyde Barrow while visiting her husband in a Texas jail. Barrow, serving time for burglary, obviously made quite an impression on Parker, because she smuggled a gun, taped to her thigh, into prison to help him escape. He was eventually caught in Ohio and brought back to prison. When a personal appeal from his mother to the Texas governor earned his release in 1932, he vowed never to return.
Bonnie and Clyde teamed up shortly thereafter. After Bonnie was caught stealing a car, she had to spend three months in prison, while Clyde went on a robbery spree. He then killed a sheriff and deputy at a barn dance in Oklahoma. In the fall of 1932, the pair spent their time carrying out small-time robberies throughout Texas and Oklahoma. At one such robbery, they picked up W. D. Jones, a gas station attendant, who joined their team for the next 18 months. Buck Barrow, Clyde's brother who was recently pardoned by the new Texas governor, Ma Ferguson, also joined the gang.
For some reason, the media latched onto Bonnie and Clyde. The pair loved the attention, posing for snapshots with their arsenal of weapons. In early 1934, they barely escaped a trap in Missouri, for snapshots with their arsenal of weapons. In early 1934, they barely escaped a trap in Missouri, killing two lawmen in the ensuing shootout. Buck and his wife, Blanche, were shot and captured, but Buck died from his wounds. Texas Ranger Frank Hamer finally caught up with Bonnie and Clyde in May, after tracking them for more than three months. Today, Bonnie and Clyde have an unwarranted reputation as charming Robin Hoods, mostly due to the sympathetic personalities portrayed in the 1967 classic movie Bonnie and Clyde, starring Warren Beatty and Faye Dunaway.
On this date in 1701, British privateer William Kidd, popularly known as Captain Kidd, is hanged for piracy and murder. Born in Strathclyde, Scotland, Kidd established himself as a sea captain before settling in New York in 1690, where he bought property and married. At various times he was commissioned by New York and other American colonies to rid the coast of enemy privateers. In 1695, while on a trip to London, the recently appointed governor of New York commissioned him to defend English ships from pirates in the Red Sea. In 1696, Kidd sailed to New York aboard the Adventure Galley, enlisted men for the mission, and set sail for the Indian Ocean. The expedition met with little success and failed to capture a major prize until February 1698, when the Quedagh Merchant, an Indian vessel allegedly sailing under a French pass, was taken. Word of Kidd's capture of the boat, which was loaded with gold, jewels, silk, sugar, and guns, aroused significant controversy in Britain, as the ship had an English captain.
Suspicions that he had turned to piracy were apparently confirmed when he sailed to St. Mary's, Madagascar, an infamous pirate haven. From there, he traveled to the West Indies on the Quedagh Merchant, where he learned of the piracy charges against him. Intending to clear his name, he sailed to New York and delivered himself to the colonial authorities, claiming that the vessels he had attacked were lawful prizes. He was arrested and taken to London. In 1701, he was tried on five charges of piracy and one charge of murdering a crewman. The Tories used the trial as a political opportunity to embarrass his Whig sponsors, and the latter chose to give up Kidd as a scapegoat rather than back his possibly correct claims to legitimacy. Convicted on all counts, he was executed by hanging on May 23, 1701. In later years, a colorful legend grew up around the story of William Kidd, including reports of lost buried treasure that fortune seekers have pursued for centuries.