2012
04.30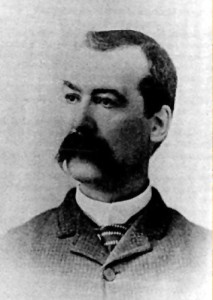 On this date in 1867, Burton C. Mossman, Old West Lawman and rancher is born in Aurora, Illinois.
Little is known about Mossman's childhood in Illinois, though he apparently learned to be self-reliant and resourceful at a young age. When he was 21, Mossman left home and moved to Mexico, where he quickly began proving himself one of the most canny and successful ranchers in the territory. By age 30, he not only had his own spread in New Mexico, but was also the superintendent of a two-million-acre ranch in northern Arizona running 60,000 cattle. As the size of the southwestern cattle industry increased, cattle rustlers began to take advantage of the lack of surveillance on the isolated ranges to steal stock. In 1901, the territory of Arizona responded by organizing a ranger force to rid the region of rustlers and other outlaws. The governor of Arizona convinced Mossman to sign on as the first captain of the Arizona Rangers.
Mossman was suited to the task. Courageous and skilled with a pistol, he had a knack for surprising rustlers while they were still in possession of stolen cattle, freshly butchered beef, green hides, and other incriminating evidence. Though he could use violence to good effect when needed, Mossman preferred to trick his quarry into giving up peacefully when possible. In one instance, Mossman rode south alone in pursuit of the multiple-murderer Agostine Chacon, who had fled to Mexico. Clearly out of his jurisdiction, Mossman had to act with finesse. With the assistance of Burt Alvard, an outlaw turned lawman, Mossman convinced Chacon that he and Alvard were also outlaws and would help him steal several top horses from a ranch in southern Arizona. When the men crossed the border into Arizona, Mossman revealed his true identity and arrested Chacon, who was later hanged.
The Chacon arrest was a typical example of Mossman's approach to dealing with Arizona rustlers and outlaws. "If they come along easy, everything will be all right," he once explained. "If they don't, well, I just guess we can make pretty short work of them… Some of them will object, of course. They'll probably try a little gunplay as a bluff, but I shoot fairly well myself, and the boys who back me up are handy enough with guns. Any rustler who wants to yank on the rope and kick up trouble will find he's up against it." After a long and adventurous career with the Arizona Rangers, Mossman eventually returned to the more peaceful life of a rancher. By the time he retired from ranching in 1944, he had business interests in cattle operations from Mexico to Montana, and more than a million cattle wore his brand. He lived out the remainder of his life at his comfortable ranch in Roswell, New Mexico, and died in 1956 at the age of 89.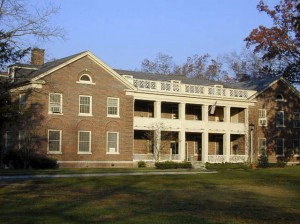 On this date in 1927, the first women's federal prison opens in Alderson, West Virginia. All women serving federal sentences of more than a year were to be brought here. Run by Dr. Mary B. Harris, the prison's buildings, each named after social reformers, sat atop 500 acres. One judge described the prison as a "fashionable boarding school." In some respects the judge was correct: The overriding purpose of the prison was to reform the inmates, not punish them. The prisoners farmed the land and performed office work in order to learn how to type and file. They also cooked and canned vegetables and fruits. Other women's prisons had similar ideals. At Bedford Hills in New York, there were no fences, and the inmates lived in cottages equipped with their own kitchen and garden. The prisoners were even given singing lessons. Reform efforts had a good chance for success since the women sent to these prisons were far from hardened criminals. At the Federal Industrial Institution, the vast majority of the women were imprisoned for drug and alcohol charges imposed during the Prohibition era.