2012
04.29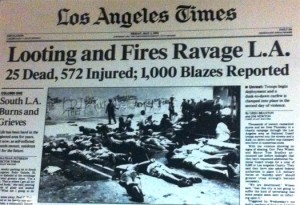 On this date in 1992, a jury of 10 whites, one Hispanic, and one Filipina in the Los Angeles suburb of Simi Valley acquits four police officers who had been charged with using excessive force in arresting black motorist Rodney King a year earlier.
The announcement of the verdict, which enraged the black community, prompted widespread rioting throughout much of the sprawling city. It wasn't until three days later that the arson and looting finally ended. Immediately after the verdict was announced that afternoon, protestors took to the streets, engaging in random acts of violence. At the corner of Florence and Normandie streets, Reginald Denny, a white truck driver, was dragged from his truck and severely beaten by several angry rioters. A helicopter crew caught the incident on camera and broadcast it live on local television. Viewers saw first-hand that the police, woefully unprepared, were unwilling—or unable—to enforce the law in certain neighborhoods of the city.
As it became evident that breaking the law in much of South Central Los Angeles would yield little, if any, consequences, opportunistic rioters came out in full force on the night of April 29, burning retail establishments all over the area. Police still had no control of the situation the following day. Thousands of people packed the streets and began looting stores. Korean-owned businesses were targeted in particular. For most, the looting was simply a crime of opportunity rather than any political expression.
The acquitted police officers were later convicted of violating Rodney King's civil rights in a federal court trial. Reginald Denny's attackers were identified through the helicopter videotape, arrested, and convicted of assault and battery. However, the jury declined to convict on attempted murder charges, apparently due to the defense's argument that the defendants had only fallen prey to uncontrollable mob rage.