2012
04.26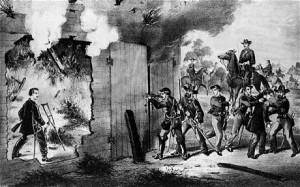 On this date in 1863, John Wilkes Booth is killed when Union soldiers track him down to a Virginia farm 12 days after he assassinated President Abraham Lincoln.
Twenty-six-year-old Booth was one of the most famous actors in the country when he shot Lincoln during a performance at Ford's Theater in Washington, D.C., on the night of April 14. Booth was a Maryland native and a strong supporter of the Confederacy. As the war entered its final stages, Booth hatched a conspiracy to kidnap the president. He enlisted the aid of several associates, but the opportunity never presented itself. After the surrender of Robert E. Lee's Confederate army at Appomattox Court House, Virginia, on April 9, Booth changed the plan to a simultaneous assassination of Lincoln, Vice President Andrew Johnson and Secretary of State William Seward. Only Lincoln was actually killed, however. Seward was stabbed by Lewis Paine but survived, while the man assigned to kill Johnson did not carry out his assignment.
After shooting Lincoln, Booth jumped to the stage below Lincoln's box seat. He landed hard, breaking his leg, before escaping to a waiting horse behind the theater. Many in the audience recognized Booth, so the army was soon hot on his trail. Booth and his accomplice, David Herold, made their way across the Anacostia River and headed toward southern Maryland. The pair stopped at Dr. Samuel Mudd's home, and Mudd treated Booth's leg. This earned Mudd a life sentence in prison when he was implicated as part of the conspiracy, but the sentence was later commuted. Booth found refuge for several days at the home of Thomas A. Jones, a Confederate agent, before securing a boat to row across the Potomac to Virginia.
After receiving aid from several Confederate sympathizers, Booth's luck finally ran out. The countryside was swarming with military units looking for Booth, although few shared information since there was a $20,000 reward. While staying at the farm of Richard Garrett, Federal troops arrived on their search but soon rode on. The unsuspecting Garrett allowed his suspicious guests to sleep in his barn, but he instructed his son to lock the barn from the outside to prevent the strangers from stealing his horses. A tip led the Union soldiers back to the Garrett farm, where they discovered Booth and Herold in the barn. Herold came out, but Booth refused. The building was set on fire to flush Booth, but he was shot while still inside. He lived for three hours before gazing at his hands, muttering "Useless, useless," as he died.
On this date in 1913, thirteen-year-old Mary Phagan is found sexually molested and murdered in the basement of the Atlanta, Georgia pencil factory where she worked.
Her murder later led to one of the most disgraceful episodes of bigotry, injustice, and mob violence in American history. Next to Phagan's body were two small notes that purported to pin the crime on Newt Lee, the night watchman at the factory. Lee was arrested, but it quickly became evident that the notes were a crude attempt by the barely literate Jim Conley to cover up his own involvement. Conley was the factory's janitor, a black man, and a well-known drunk. Conley then decided to shift the blame toward Leo Frank, the Jewish owner of the factory. Despite the absurdity of Conley's claims, they nevertheless took hold. The case's prosecutor was Hugh Dorsey, a notorious bigot and friend of Georgia's populist leader, Tom Watson. Reportedly, Watson told Dorsey, "Hell, we can lynch a nigger anytime in Georgia, but when do we get the chance to hang a Yankee Jew?"
Frank was tried by Judge Leonard Roan, who allowed the blatantly unfair trial to go forward even after he was privately informed by Conley's attorney that Conley had admitted to Frank's innocence on more than one occasion. The trial was packed with Watson's followers and readers of his racist newspaper, Jeffersonian. The jury was terrorized into a conviction despite the complete lack of evidence against Frank. Georgia governor John Slaton initiated his own investigation and quickly concluded that Frank was completely innocent. Three weeks before his term ended, Slaton commuted Frank's death sentence in the hope that he would eventually be freed when the publicity died down. However, Watson had other plans: He mobilized his supporters to form the Knights of Mary Phagan. Thousands of Jewish residents in Atlanta were forced to flee the city because police refused to stop the lynch mob.
The Knights of Mary Phagan then made their way to the prison farm where Frank was incarcerated. They handcuffed the warden and the guards and abducted Frank, bringing him to Marietta, Phagan's hometown. There he was hanged to death from a giant oak tree. Thousands of spectators came to watch and have their picture taken in front of his lifeless body. The police did nothing to stop the spectacle. Although most of the country was outraged and horrified by the lynching, Watson remained very popular in Georgia. In fact, he was elected to the U.S. Senate in 1920. Frank did not receive a posthumous pardon until 1986, on the grounds that his lynching deprived him of his right to appeal his conviction.